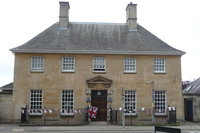 Tuesday 24 November 2015
Staff Changes at TOPO
An update from the Old Post Office.
Following on from yesterday's announcement regarding Andy Halstead's impending departure, members are asked to note that Richard Winchester has left his position as Competition Secretary with the Club.
We would like to wish both Andy and Richard the very best for the future.
We are pleased to announce that in the short-term Gemma Price has agreed to return to the Club for three days a week on a three-month temporary contract. Additionally, Kevin Lee will be working within the Competitions Department for two days a week to help out specifically with non-speed events. The changes will give the Club the opportunity to review the staffing in The Old Post Office to ensure that we can continue to offer the optimum service to our Members and proposals will be presented to Committee for approval at the earliest opportunity.
CLICK HERE
to view details of the current Assistant Competition Secretary (Non-Speed Events) Vacancy.