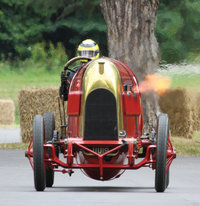 Friday 27 November 2015
2015 International Historic Motoring Awards Winners Announced
Following the VSCC's own success at last year's ceremony, we are delighted to recognise the achievements of some of our Club Members and associates at this year's prestigious event.
Having received unanimous praise throughout the year, with celebrated appearances at the Goodwood Festival of Speed, Chateau Impney Hill Climb and the star of our very own Club Display at the NEC Classic Motor Show earlier this month – helping us to the prestigious 'Most Interesting Selection of Cars' award by Classic and Sports Car Magazine (
CLICK HERE
for more) – few were surprised to see Duncan Pittaway's awesome 1911 Fiat S76 'Beast of Turin' claim the prestigious 'Car of the Year' title.
After more than a decade sourcing and restoring original components and fabricating missing parts using original factory drawings, the car made its highly-anticipated appearance earlier this year and has proved a huge draw wherever it has gone, whether on static display or running of the incredible 28-litre fire-breathing engine. Our congratulations to Duncan and we look forward to seeing the 'Beast' in action at a VSCC event or two next year.
We were also delighted that the Benjafield's Racing Club was named as successor to our own 'Club of the Year' crown, with several VSCC representatives amongst its 100-strong membership. They were chosen ahead of a number of big hitters amongst the nominations, following a successful 25th Anniversary year celebrated with a series of pioneering and flamboyant events across Europe, most notably their Benjafield's 24, a recreation of the 1924 Le Mans in the Algarve.
Congratulations also to Club Member, Rod Spollon, for his deserved nomination for 'Personal Achievement of the Year' following his outstanding efforts to resurrect motorsport at the Spollon family-owned Chateau Impney. This summer's inaugural Chateau Impney Hill Climb was hailed as a huge success and looks certain to become a firm fixture of the Historic motorsport calendar for years to come.
The 'Personal Achievement' category was won by Julius Thurgood of Historic Racing Drivers Club for the launch of his new HRDC Academy, which has created an affordable entry-level class of Historic racing. We look forward to welcoming Julius and the HRDC to the VSCC Race Season programme in 2016.
For a full list of winners, visit
www.historicmotoringawards.com
.