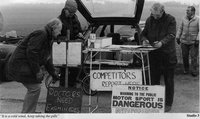 Wednesday 02 December 2015
VSCC Race & Speed Forum and MSA Medicals at the Winter Driving Tests this Weekend
A reminder to Club Members that this year's Race and Speed Forum and MSA Medicals take their traditional place alongside our Winter Driving Tests this coming weekend, on Saturday 5 December at the popular Bicester Heritage, Oxfordshire.
VSCC Race & Speed Forum
The Forum will begin at 2.30pm, located within The Scramble Hut in the Motor Transport Yard, and those who have entered or are marshalling on the Winter Driving Tests will also have the chance to attend.
This is your chance to give feedback on the 2015 calendar of Race, Sprint and Hill Climb events, inaugural Speed Series and also to put forward any suggestions for these disciplines for next year and beyond. Tell us what you think of the venues, meetings and organisation all in an open forum style meeting. Everyone is welcome, seasoned Competitors, Marshals or those who are just starting out – so please come along and tell us what you want from the events organised by your Club.
If you are unable to attend on the day, but have any questions or points you wish to raise, please email the Competitions Department at
comps@vscc.co.uk
with details and we will add your query to the agenda if suitable for discussion.
MSA Medicals
In addition to the Forum, our Race and Speed Competitors will also be pleased that once again our VSCC doctors and helpers will be in attendance at the Winter Driving Tests all day for MSA medicals, a long-standing Club tradition now in its 26
th
year. There is no need to book a medical, simply turn up at Bicester Heritage with your body, your 2016 MSA Licence Application Form and your cheque book.
This year's chosen Charities to be the beneficiaries of the fee of £75.00 are MSAT (Multiple System Atrophy Trust), Mission Motorsport and Practical Action – those of you that pay tax will be asked to complete a 'Gift Aid' declaration as well so that the charity can claim the tax on your donation.
You can read more about this year's chosen charities via the links below:
www.msatrust.org.uk
www.missionmotorsport.org
www.practicalaction.org
Bonhams are once again kindly donating champagne in a free raffle for medical candidates and marshals this year.
Directions
Bicester Heritage is located on the Buckingham Road, Bicester, Oxfordshire, OX26 5HA, approx. 4 miles from either junction 9 or 10 of the M40, 15 miles south west of Silverstone. Gate Marshals and signage will direct you upon arrival.