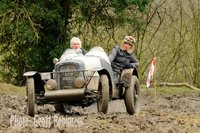 Thursday 03 December 2015
Golightly seals 2015 VSCC Trials Season Championship
Following confirmation of results from our Cotswold Trial, the traditional season closer, the standings have been finalised and we are delighted to announce the winners of the Club's prestigious Annual Trials Trophies for 2015.
The silverware for our Short Wheelbase cars (Class 1) – originally awarded across both classes – is traditionally supported by the Club's current Insurance Associate,
Hagerty
whilst a second trophy for our Long Wheelbase (Class 2) was introduced ten years ago, donated by long-time discipline supporters,
Frost Auto Restoration Techniques
.
The VSCC Trials season comprises seven events from February to November, located in Exmoor, Derbyshire, Herefordshire, Scottish Borders, Wales, Lake District and Cotswolds. Trophy Points from a maximum of six events are counted towards the Annual Trophies – the Club's annual Welsh Trial has always been restricted to Vintage & Edwardian cars only (i.e. Pre-1931) and therefore would put those drivers of Post-Vintage Thoroughbred (PVT) cars at an immediate disadvantage.
Recent winners of the two Annual Trophies include:
PREVIOUS TRIALS TROPHY WINNERS
Year
Short Wheelbase Cars
Long Wheelbase Cars
2014
Matt Johnston
Austin
Paul Jeavons
Vauxhall
2013
Donald Skelton
Austin
Jonathan Miller
Chrysler
2012
Donald Skelton
Austin
Jeremy Brewster
Lea-Francis
2011
Mags Diffey
Bugatti
Stuart Cooke
Morris
2010
Donald Skelton
Austin
Gareth Graham
Bentley
The Short Wheelbase Class for the
Hagerty Trophy
proved an epic battle all season long between the Ford Model T of David Golightly and Donald Skelton, a 3-time Championship winner in his Austin 7. The first part of the year saw the pair share the victories, with Golightly holding the advantage at the season's halfway stage, having triumphed at the Derbyshire, Herefordshire and Scottish events.
Victory at the Welsh Trial in October saw Skelton close the gap. However, challenging conditions at the Lakeland Trial delivered below par results for both our front-runners, ensuring it would come 'down to the wire' at the Cotswolds. Whilst neither could hit the heights of the early season with another overall victory, David's 1
st
Class award was enough to beat his rival and claim his first VSCC Trials Championship crown.
The well-deserved success proved a satisfactory end to a well-spirited contest over the season, which also saw the pair swap cars for an event with our friends at the Preston & District Vintage Car Club, raising over £500 for the local Air Ambulance Charity.
Ahead of the final round, Paul Jeavons looked to have tied up the overall victory in the
Frost Trophy
standings for Long Wheelbase Class in his Vauxhall 30-98 for a second consecutive year. Following several consistent performances throughout the season, including Class victory at the Derbyshire Trial in March, he entered the Cotswolds trailing Robert Hodgkinson's Ford Model A in the standings by less than a dozen points, having only competed in five events – thus his weekend's score was still to count. Although just outside the awards on the day, his score was strong enough to deliver the expected season triumph.
TRIALS TROPHIES 2015 – FINAL SCORES

The Hagerty Trophy

The Frost Trophy

1
David Golightly
Ford
2059
1
Paul Jeavons
Vauxhall
1692
2
Donald Skelton
Austin
2022
2
John Chilman
Chrysler
1486
3
Richard Houlgate
Austin
1846
3
Robert Hodgkinson
Ford
1485
4
Phil Longhurst
Riley
1835
4
Dennis Bingham
Ford
1469
5
Peter Kite
Austin
1815
5
Richard White
Morris
1404
6
Kraig Mycock
Riley
1769
6
Tim Dutton
Ford
1378
7
Andrew Fox
Austin
1750
7
John Higgs
Morris
1169
8
Keith Hill
Singer
1713
8
Tim Kneller
Morris
1152
9
Matthew Johnston
Austin
1688
9
Steve White
Riley/Ford
1105
10
Alexandra Milne-Taylor
AJS
1679
10
James Bell
Chrysler
1045
11
Clive Press
Austin
1667
11
Ben Collings
Bentley
989
12
Stewart Rich
Austin
1638
12
Jeremy Flann
Ford
977
13
Nigel Glover
Austin
1611
13
Graham White
Lea-Francis
971
14
David Rolfe
MG
1585
14
Norman Lloyd
Bentley
936
15
Simon Price
Ford
1556
15
Peter Garland
Vauxhall
915
Amongst the 'Standard' cars, both Russell Hennessy (Morris Bullnose) and Dennis Bingham (Ford Model A) enjoyed a well-deserved 'lap of honour' in the Cotswolds following their strong and consistent performances throughout the season to dominate their respective standings, with Bingham's total enough to place him fourth in the overall Long Wheelbase standings, amongst much more modified machinery.

TRIALS SCORES 2015 – STANDARD CLASSES
Standard Short Wheelbase
Standard Long Wheelbase
1
Russell Hennessy
Morris
1144
1
Dennis Bingham
Ford
1469
2
David Rushton
MG
743
2
Christopher Batty
Ford
830
3
David Johnson
Austin
672
3
John Wiseman
Ford
809
4
Mark Smith
MG
575
4
John Dobson
Ford
728
5
Will Odell
Riley
502
5
Roy Newton
Ford
686
6
Charles Gillett
Morris
498
6
Chris Williams
Ford
658
We thank Club Member and Trials Marshal, Peter Livesey for again collating scores on behalf of the Club in 2015 and all those who competed or marshalled across another successful VSCC Trials campaign.
Exmoor Fringe Trial 2016 – Entries Now Open
Entries are now open for the first VSCC Trial in 2016, our
Exmoor Fringe Trial
, which takes place on Saturday 13 February, based once again at the Anchor Inn, Exebridge in Somerset.
Once again it is down to the Exmoor 'Fringe' Trial to kick-start the ever popular VSCC Trials Season with the 25th Anniversary of the Club's annual February visit to the South-West. Long-time helmsman of the event, Graham White takes on the Clerk of the Course role for the VSCC's traditional season curtain-raiser so we hope to see a fantastic turnout to celebrate his many years of hard work and dedication.
He will no doubt be offering a challenging but exciting day's competition, based again at the cosy surroundings of The Anchor Inn. With its thick forests, muddy fields and rolling moors, Exmoor is undoubtedly a stunning location to trial so do not miss the chance to take part in one of the Club's most loved events – just be sure to wrap up warm as Winter is sure to be holding us in a grip of iron.
Entry Fee:
£65.00
Closing Date for Entries:
1 February
Members can download Supplementary Regulations and Entry Form, the latter to complete and return by email/fax/post or alternatively enter online at the event page (
CLICK HERE
). Remember you must have a credit card lodged with the Office and who know the Buff Form Number of the car you wish to enter to use the online facility.
If you have any questions or would like to volunteer to marshal, please contact the Competition Department on 01608 644777 Ext 4 or email
comps@vscc.co.uk
.