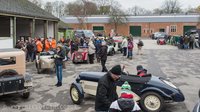 Tuesday 08 December 2015
Winter Driving Tests 2015 Provisional Results and Gallery Now Live
Members can now download Provisional Results from the final VSCC event of the year, the Winter Driving Tests, which took place this past weekend on Saturday 5 December at Bicester Heritage.
As our inaugural event at the celebrated venue last year, another fantastic entry of 80 Pre-war cars arrived at
Bicester Heritage
on Saturday to take on the Club's traditional season curtain-closer, the Winter Driving Tests, with ten challenges located around the former RAF airbase.
Alongside a terrific day of motorsport, Willie Sellers and his team of VSCC Doctors enjoyed another successful day, carrying out Club Medicals for more than 80 individuals. As always, Club Members showed their generosity, raising £6,739.50 for the three nominated charities,
Practical Action
,
MSAT (Multiple System Atrophy Trust)
, and
Mission Motorsport
. Later in the afternoon, there was a strong turnout for the Club's annual Race & Speed Forum, where details of next year's calendar were revealed.
We would like to thank Mark Elder for not only hosting another fantastic day of motorsport, but also for his efforts organising the many extra-curricular elements, with top catering and live folk music over the Lunch Break proving great additions to the day. We also thank all Officials, Marshals and the day's other volunteers for giving their time and braving the elements to ensure the event ran seamlessly.
We also thank our hosts, Bicester Heritage for allowing us to use their wonderful venue, County Bicester for their support, The Motor Shed Ltd for sponsoring the well-received provisions of Hook Norton Ale at the end of the day and to all the Bicester Heritage Resident Specialists who opened the doors to their business and workshops on the day.
To download Provisional Results, please visit the Winter Driving Tests Event Page (
CLICK HERE
), where a selection of photos from the event is also now available to view in the gallery.