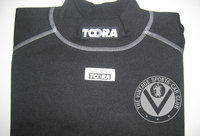 Tuesday 05 March 2013
Something for the weekend Sir?!
A range of bespoke VSCC Racewear range has been launched by competing Club members Tony and Pia Bianchi who operate the UK franchise for Toora Competizione (high quality Italian racewear) through their business, Racing Repertoire. They are pleased to announce a bespoke range for the VSCC which includes suits, race boots, gloves and underwear.
With the never ending rule changes and differing quality between manufacturers, VSCC members are assured access to trusted high quality, bespoke products. For instance, race suits will be supplied made to measure in the customer's choice of colour and can be embroidered with name, blood type and have logos embroidered on directly in Nomex thread (there will be a set –up charge if Pia does not have your logo on file).
Pia is excited by the prospect of developing VSCC focused merchandise ideas, whilst ensuring that current and older members are equally well catered for, whatever their motoring discipline.
Info about Toora Spa Founded in 1993 as part of a large manufacturing group specialising in aluminium casting design and manufacture - its highly skilled workforce and infrastructure allows the company to meet the most demanding requirements of the automotive, motor cycle, pneumatic and mechanical industries amongst other. Its flexible structure and approach to its customers allows Toora to meet the needs of big industry and small business. Trade Partners include Fiat Alfa Romeo, MV Agusta, Ducati, Audi, Magneti Marelli, Bosch - they even manufactured the Olympic Torch for the Turin Olympics.
Passion for Motor sport has always been at the heart of Toora - the racing division was a logical evolution embodying the skills technology and manufacturing skills already in place. Toora Competizione, was established with the express intention of designing and producing top quality products conforming to FIA standards that embody industrial design concept combined with craftmanslike care and attention to details. Suppliers to the following Racing Partners - Maserati, Subaru Italy, Alfa Romeo, Peugeot and Suzuki.
Suit prices will be announced soon,prices of accessories are listed below. If you would like to order please contact Pia Bianchi at Racing Repertoire, Tel: 01494 449810 or Email: info@bianchiaciation.com