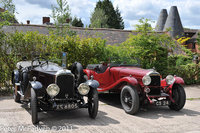 Wednesday 13 March 2013
Entries now open for 2013 VSCC Touring Assemblies
From the Scottish Borders to the Welsh Marches, Norfolk Broads to the vineyards of Burgundy, the VSCC's calendar of touring events offers an eclectic mix of scenery and landscapes for our members to use their Pre-war cars in more leisurely pursuits. Submit your entries now for…
Scottish Borders Tour
,
Saturday 8 June
Nr Selkirk, Scottish Borders TD7 5LS
A scenic tour of the Tweed Valley in the Scottish Borders, based at the Philipburn Country Hotel outside Selkirk, covering one hundred miles in a "figure of eight" route so the start, finish and lunchtime stop will be at the hotel. Half the route will be to the west of Selkirk and include St Mary's Loch and the open road to Roberton while the eastern half will visit Scott's View and the lower Tweed Valley around Kelso…
Click
HERE
for more information.
'Viewfinder' Tour, Saturday 29 June
Bucknell, Shropshire SY7 0AH
The Welsh Marches include a variety of landscape features – hills, watersheds, ancient roads, earthworks, rivers, wild moors and lush fields. On the Welsh side, sheep and trees tend to be the major crops, and in Herefordshire, there are orchards and cattle. The route is designed for those looking for a really leisurely day out and includes extensive views, quaint hamlets and is designed to suit drivers and cars with Pre-war performance…
Click
HERE
for more information.
Norfolk Tour, Saturday 27 July
East Carleton, Norfolk NR14 8HP
For this one more year we are continuing with a World War II Bomber Command background theme in that we start and finish at The Grove Cheshire Home at East Carleton, south-west of Norwich. Group Captain Cheshire founded the Cheshire Homes post-war, marrying the famous post-war charity campaigner and wartime Special Operations Executive Operator Sue Ryder in 1959. The run will again be of c.75 miles duration and will be based around The Broads, with the Lunch Stop at The Bridge Inn, Wayford, plus a special shorter option will be available for those who may wish to partake of our pre-arranged Guided Tour of R.A.F. Neatishead Radar Museum, and "Cold War" Early Warning Centre (additional extra) ...
Click
HERE
for more information.
Entry fees for our Tours are only £25 per car and are open to all VSCC members in a Pre-war car (no Buff Form required!) Some of our events invite other Car Clubs and involve additional costs for catering and optional extras. Follow the links above for full details of each event, to download an Entry Form or to enter online (NB you do have to have a Buff Form for your car and must have a current credit card lodged with the Club to use the online facility).
And don't forget…
Entries are being taken for this year's
Burgundy Tour (16 – 26 September)
. Following the success of our Irish and Brittany Tours over the last two years, the Club are delighted to once again be working with Club Member Steve Brown of European Routes for Leisure (ERL) to offer our members another overseas Touring opportunity, this year comprising a 10-Night Tour to the Wine Region around Vézelay.
Click
HERE
for more information.
If you have any questions regarding the Club's Tours, please contact James Taylor in the Competition Department on 01608 644777 Ext 4 or email
james.taylor@vscc.co.uk
.