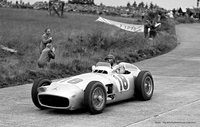 Tuesday 19 March 2013
Bonhams to sell most important Historic Grand Prix Racing Car
Last night, at its New Bond Street saleroom, Bonhams unveiled an incredibly important motor car that will be offered for auction at the Goodwood Festival of Speed on Friday 12 July. The car will become the most important historic Grand Prix racing car ever entered into public auction.
Bonhams is pleased to announce it has consigned the 1954 2½-litre straight-8 Mercedes-Benz W196 einsitzer– chassis number '00006/54' – in which five-times World Champion Driver Juan Manuel Fangio won both the 1954 German and Swiss Grand Prix races. These great victories were the first two to be achieved in succession by the frontier-technology Mercedes-Benz factory Formula 1 team in its postwar racing come-back. Chassis '00006' also has special significance as the first open-wheeled slipper-bodied postwar Mercedes-Benz ever to win a Formula 1 Grand Prix race – having made its debut in that German GP.
The car's innovative W196 design also marked the successful introduction to Formula 1 of the following technologies:
Fuel-injected engine
All-independent suspension
Multi-tubular 'spaceframe' lightweight chassis design
All-round inboard-mounted brakes
The in-line or 'straight-8' engine 'lay-down' configuration to minimize the car's overall height
Power take-off from the centre of the engine's long 8-cylinder crankshaft to minimize vibration
The FIA governing body of International motor sport launched its first truly postwar set of Grand Prix regulations in 1954, demanding unsupercharged engines of no more than 2½-litres engine capacity. Mercedes-Benz – who had previously dominated Grand Prix racing in 1908, 1914 and 1934-39 –missed the first two 1954 World Championship rounds in Argentina and Belgium. But they then made their shattering debut in the 1954 French Grand Prix at Reims-Gueux. Their all-new W196 cars ran there in enveloping-bodied 'Stromlinienwagen' form, instantly setting totally new performance standards as Juan Manuel Fangio and team-mate Karl Kling finished first and second in both qualifying and the race.
National media and the specialist sporting press trumpeted the same simple message: "Mercedes are Back"!
However, the W196 Stromlinienwagen cars with their enclosed wheels proved difficult to place upon the more twisty venue of the following British Grand Prix at Silverstone. Fangio requested an open-wheeled, W196 variant for the following German Grand Prix on the twisty 14.2-mile Nurburging road circuit. Mercedes-Benz reacted instantly, tailoring new cars '00005' and '00006' to Fangio's recommendation.
And it was in this actual car – chassis '00006' - now to be offered by Bonhams at Goodwood -that Fangio immediately won the German Grand Prix. He then repeated the feat in the following Swiss Grand Prix on the daunting Bremgarten forest circuit at Berne – storming round at uncatchable pace in '00006' to win by 58.7 seconds from Argentine compatriot Jose Froilan Gonzalez's out-classed Ferrari. This Swiss victory was Fangio's third in four Grand Prix races, and assured him of his second Drivers' World Championship title.
Thus, Bonhams Goodwood Festival of Speed auction will offer this iconic landmark-technology Mercedes-Benz W196 as the double-Grand Prix-winning car in which Fangio – no less – clinched the second of his long-standing record five Drivers' World Championship titles.
This Bonhams sale of the ex-Fangio 1954 German and Swiss GP-winning Mercedes-Benz W196 is – on so many fronts –a classic car auction first.
Robert Brooks, Chairman of Bonhams and handling the sale of the Mercedes-Benz, comments, "My motoring auction career spans five decades and I have been privileged to have handled some of the world's most desirable and important motor cars. To handle the sale of this legendary W196 Grand Prix Car – the only one out of captivity– could well be the pinnacle. Our Goodwood Festival of Speed auction is shaping up to even eclipse the record breaking Sale of last year."
For a full listing of upcoming sales, plus details of Bonhams specialist departments go to
www.bonhams.com
. Prior to sale there are several days of viewing which collectors and the general public are welcome to attend.