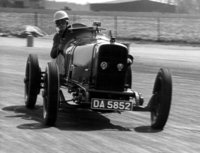 Monday 06 February 2017
Pomeroy Trophy takes to GP Circuit for 2017 - Entries Now Closed
Entries have now closed for The Pomeroy Trophy, which takes place at Silverstone on Saturday 18 February – with the afternoon's Regularity sessions running on the Grand Prix Circuit – with an incredible 144 cars entered to take part!
New for 2017!
To revive the competition we have introduced a number of changes for this year:
Event to count towards Annual Aggregate Trophies for VSCC eligible cars
Event to be open to all engine capacities for both Pre- and Post-war cars
No filter point or penalties for trailering to the venue
Afternoon session to take place on the famous Grand Prix Circuit, which:
will allow grids of up to 58
will increase the length of each lap from 1.64 miles to 3.67 miles
New Class for Modified Series Production Cars (MSA Regulations S12)
All Tyres from MSA lists 1a and 1b accepted
*Although not strictly a Race, Competitors must hold a 2017 MSA Race License (minimum National B) or FIA ASN equivalent as the afternoon's regularity sessions are run under race conditions.
Entries are now closed.
If you have any questions, please don't hesitate to contact the Competition Department on 01608 644777 (ext 6) or email
gemma.price@vscc.co.uk
.
Since its inception 65 years ago, the 'Pom' has earned cult status as a true one-off in motorsport circles, with the principle behind the event for road-going cars remaining unchanged. Through a number of Driving Tests of speed, agility and braking ability and the famed 'Suitcase Test', followed by a 40-minute Regularity Trial, the Club's magic formula will help us calculate the very best Grand Tourer.
The car which wins the 'Pom' is always a true all-rounder driven by a great driver, so why not join us and see how you and your favourite car fair? There is simply no other competitive event that offers such outstanding value for money with Competitors getting the best part of an hour's track time at the home of British Motorsport – compare that to your average Race!