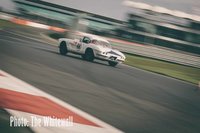 Thursday 12 January 2017
New Class Added for the VSCC Pomeroy Trophy 2017!
We are delighted to announce a new 'Modified Series Production Cars' Class for the Club's unique and celebrated Pomeroy Trophy at Silverstone on Saturday 18 February.
Entries are now being accepted for Modified Series Production Cars in compliance with Regulation S12 (Sprints, Hill Climbs and Drag Racing) of the 2017 MSA Yearbook. These cars will run in a separate class for their own awards and will not be eligible for overall victory or standings.
We are also pleased to advise that all entries for this event will be able to use tyres from MSA lists 1a and 1b.
We have now received a fantastic 80 entries for this year's 'Pom' and we hope that this new addition will attract yet more fascinating machinery to take part in this truly historic event.
From a 1910 Hupmobile to 2007 Mazda MX5, a traditionally eclectic line-up spanning almost a century of motoring is already confirmed, representing over 30 different Pre- and Post-war marques, including Alfa Romeo, Austin, Bentley, BMW, Caterham, Elva, Frazer Nash, Invicta, Lea-Francis, Porsche, Riley, Subaru, Turner, Volvo and more. It is sure to make for a memorable event, so if you haven't already submitted your entry, make sure that you do so soon!
CLICK HERE
to read about all the changes for 2017 as we take to the prestigious
Grand Prix Circuit
for the first time!
Entry Fees
: £115 for Pre-war Cars £165 for Post-war Cars
(Don't forget Half-Price entry fees are available to all Club Members under 30 years old on 1 January 2017)
.
*Although not strictly a Race, Competitors must hold a 2017 MSA Race License (minimum National B) or FIA ASN equivalent as the afternoon's regularity sessions are run under race conditions.
Entries close at the end of day on
Monday 6 February
.
You will find Event Supplementary Regulations and Entry Form attached, the latter to complete and return to the Competition Department by email/post/fax. Alternatively, for those entering a car with a current Buff Form number (i.e. Pre-war only) and with a current credit card lodged with the Club enter online at the event page (
CLICK HERE
).
If you have any questions, please don't hesitate to contact the Competition Department on 01608 644777 (ext 6) or email
gemma.price@vscc.co.uk
.