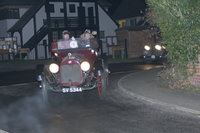 Friday 20 January 2017
The VSCC Measham Rally – the ultimate Pre-war motoring Challenge – this Weekend
Brave Club Members and their crews will tackle the VSCC Measham Rally this weekend, as the infamous overnight navigational challenge returns to the heart of England this year, based at Bruntingthorpe near Lutterworth, Leicestershire on 21/22 January.
2017 marks the 67
th
Anniversary of the seminal Club event – the traditional VSCC season opener – as the local organising team led by Club Director, Jennifer Lees and Andrew Duerden look forward to welcoming an entry of almost sixty crews in Pre-war Sports, Touring and Saloon cars across the event's four competing classes, with a line-up that this year includes past winners of the Monte Carlo Rallies (both original and modern Classic editions), the Safari Rally, the Alpine Rally and also the Motoring News Road Rally Championship.
First held in 1950, the Measham has been a pivotal fixture on the Club's calendar ever since and remains the ultimate challenge of Pre-war machine and crew, although it was not until its second year that the now integral overnight navigation element was introduced, with the 1929 Bentley of F.E. Day claiming the first ever Measham Trophy victory. To this day taking part, let alone completing the event is very much considered a 'Badge of Honour' amongst the Historic motorsport community.
Event HQ will be based at the Bruntingthorpe Proving Ground to the north-east of Lutterworth, with top quality indoor scrutineering facilities and full catering onsite. Competitors will face a route of approximately 160 miles with the lead car setting off at 9.00pm on Saturday evening. Frost and freezing temperatures will ensure they face testing conditions through the night, with a welcome halfway-halt before the anticipated finish back at event headquarters from around 5.00am.
Formerly a US Airforce base, Bruntingthorpe Proving Ground is currently the largest privately owned vehicle test track facility in the UK and offers a wide range of facilities for vehicle storage, refurbishment and disposal, vehicle test and development and corporate hospitality and events. The venue also boasts a rich aviation history and currently houses the Cold War Jets Collection. The VSCC have been invited into the 'Quick Reaction Hangar' during Saturday afternoon to see the collection, specifically the Lightnings which are kept there and are being restored by enthusiasts, some of whom are Club. Read more about the venue at
http://www.bruntingthorpe.com/
We would like to wish all crews, the organising team and other officials of the event the best of luck for what will undoubtedly be a most enjoyable event but perhaps save the biggest ovation for the band of volunteer marshals, both Club Members and Non-Members alike, who will be out running the controls along the route throughout the night!