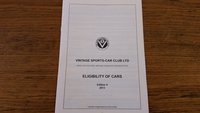 Thursday 26 January 2017
Review of the PVT List
Club Members may be aware that the Club is undertaking a Review of the current PVT List.
The Review is being undertaken by the Eligibility Sub-Committee (ESC) and is likely to result in a number of proposals being set before the main VSCC Committee for consideration.

This is a comprehensive Review and so will take time to complete. Therefore, Members are asked to be patient whilst this important work is being carried out and to note that submissions for the inclusion of any particular marques are not required as the ESC will be considering them all. Such additional paperwork will only serve to slow down the process.