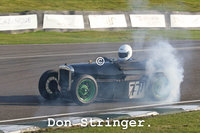 Tuesday 31 January 2017
Entries Open for First Three Speed Events of 2017
We are delighted to announce that entries have opened for the first three events which form part of the 2017 Speed Championship.
Entries are now being accepted for Curborough Speed Trials (30th April 2017), Wiscombe Park Hill Climb (7 May 2017) and Loton Park Hill Climb (27 & 28 May 2017).

Entries are available through the usual methods of online or to receive paper copies please call the Competitions Department on 01608 644777.

Entries are allocated ona first come first served basis for 2017 events, so should competitors wish to enter these events we encourage you to enter sooner rather than later.

Entry Fees are still taken after the event and the Clubs Refund Policy remains unchanged.