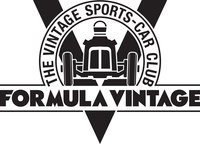 Friday 10 February 2017
Formula Vintage – a new name for VSCC Racing
The Vintage Sports-Car Club is proud to present Formula Vintage, the new name for the Club's racing programme with the aim of introducing the VSCC's unique and celebrated line-up to a new and wider audience of motorsport enthusiasts.
The VSCC's racing activities began 80 years ago with the Club's first ever Race Meeting on 10 July 1937 at Donington Park, where it was also one of the last to hold an event prior to the outbreak of war two years later. The VSCC then held the first Race Meeting Post-war, when it joined forces with the Cambridge University Automobile Club for an event at Gransden Lodge Aerodrome on 13 July 1947.
Since those early years the Club has firmly established itself as one of the world's leading organisers of Pre-war and Historic Club racing, with a wealth of experience in hosting first-class events at the UK's most celebrated venues, including Silverstone, where the Club held a first meeting on 2 July 1949, one of the first at the then fledgling circuit.
Whilst the subsequent years have seen the arrival of a number of other notable series and events, the Vintage Sports-Car Club remains a prominent fixture of the Historic Club racing calendar to this day.
2017 will see
Formula Vintage
visit five famous British circuits, with each Meeting headlined by one of the Club's prestigious trophy collections, celebrating such British Racing legends of the Pre- and Post-war eras as Mike Hawthorn and Richard Seaman.
A regular programme of six Pre-war and Historic trophy races will top the bill at each meeting, highlighting the very best of Pre-war racers against like for like machinery, featuring Pre-1931 Vintage Racing Cars, Pre-1961 Racing Cars and road-going Pre-war Sports-Cars, as well as eclectic Pre-war line-ups for our ever-popular All-Comers Scratch and Handicap formats.
Other celebrated events from the Club's historic collections will also be featured throughout the year, including the Pre-1918 Edwardian Handicap Race, Pre-war Sports-Car Team Relay Race and much more, whilst we will also champion our fellow Pre-war marques with special events, including races for Frazer Nash/GN, Riley, MG and Austin 7, and we again host the Bugatti Owners' Club's hallowed Williams Trophy.
To complement the year's 'Vintage' content, we also look forward to welcoming competitors from many of the UK's other celebrated Historic and Classic race series, including long-time associates the Historic Grand Prix Cars Association (HGPCA), Formula Junior and 500 Owners Association, prominent 1950s/60s Series FISCAR and HRDC, and some newer supporters in the Morgan Challenge Series and Classic Ferrari.
With free Spectator access to the Paddock, where you can get up close with drivers and their historic machinery, and plenty of other off-track entertainment at each event,
Formula Vintage
provides a truly special day out for the whole family.
So be sure to join us for one or more of the exciting five rounds on offer:
| | | | |
| --- | --- | --- | --- |
| Round 1 | Silverstone National Circuit, Northamptonshire | 22 & 23 April | Click Here |
| Round 2 | Oulton Park International Circuit, Cheshire | 10 June | Click Here |
| Round 3 | Cadwell Park, Lincolnshire | 23 July | Click Here |
| Round 4 | Mallory Park, Leicestershire | 12 August | Click Here |
| Round 5 | Snetterton 200 Circuit, Norfolk | 17 September | Click Here |
Follow the links above for a preview of each Round – including a full provisional Race Programme. Further details and Spectator ticket information will be available soon.
CLICK HERE
to view the brand new
Formula Vintage
promo video at the VSCC YouTube channel whilst a new dedicated website (
www.formulavintage.co.uk
) and Facebook page (
www.facebook.com/FormulaVintage/
) are also now live.
Calling All Competitors!
Entries are now open for the Club's entire 2017 Race Season so submit your entries now and be part of the UK's best Pre-war and Historic Club Racing!
From each event page via the links above, you can now download Supplementary Regulations and Entry Forms, the latter to complete and return to the Competition Department by email/post/fax or alternatively, for those entering a car with a current Buff Form number and with a current credit card lodged with the Club enter online.
Don't forget the majority of entries will be accepted on a first-come-first-served basis this year so don't miss out and submit your entries early!
If you have any questions, please don't hesitate to contact the Competition Department on 01608 644777 (Ext 4, 5, or 6) or email
comps@vscc.co.uk
.
Further information about each event will follow in due course as tradition via the Club Newsletter, website and targeted mailshots, whilst look out for more exciting announcements in the coming weeks in the build-up to the season and events.