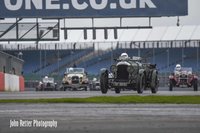 Friday 17 February 2017
Get set for a record-breaking VSCC Pomeroy Trophy at Silverstone this weekend
Any fears of a 'Last Night at Pom' have been spectacularly quashed with an incredible entry of almost 150 Pre- and Post-war cars lined up to take part in the Club's celebrated Pomeroy Trophy at Silverstone tomorrow, Saturday 18 February.
An undoubted highlight of the Club's annual Events Calendar for 65 years, the 'Pom' remains one of the most unique and enjoyable competitions in the world of motorsport. Be sure to join us at the home of the British Grand Prix, where all the action will be taking place on the full Historic Grand Prix Circuit for the first time!
The only VSCC event open to all Pre- and Post-war cars takes its traditional February slot at Silverstone – always the first event of the year for the famous venue – for one of our oldest and most special traditions.
Having passed the morning's Scrutineering processes, including the famous 'suitcase' check – all cars must be able to store two 'Le Mans' regulation size suitcases to prove their Grand Touring status – Competitors will face the traditional morning challenges, which include Driving Tests of speed and agility carried out in convoy, before taking to the Grand Prix Circuit for the afternoon's forty minute Regularity Trials to complete a designated target number of laps.
Aided by the event's complex formula, based on Laurence Pomeroy Junior's calculations of the efficiency of Grand Prix car engines, we will crown the best GT car by day's end.
We also look forward to welcoming Vauxhall 30-98 'E 234' (affectionately known as 'Dear Octopus') winner of the first ever VSCC Pomeroy Trophy in 1952 in the hands of Peter Binns. The car will be on the display in the Paddock close to the BRDC Grandstand courtesy of current custodians, the Spollon Family.
A few fascinating facts about our Pomeroy Trophy entry for 2017:
146 cars entered spanning 102 years
Oldest car: 1910 Hupmobile 20
Youngest car: 2014 Volkswagen Golf
57 different marques represented

Most Pre-war: Frazer Nash (17)
Most Post-war: Porsche (8)

Smallest engine capacity: 848cc (1960 Morris Mini)
Largest engine capacity: 9500cc (1911 Scat Racer)
Oldest competitor: 88 years
Youngest competitor: 18 years
Total number of laps of the Grand Prix Circuit required to be completed during the afternoon Regularity sessions: 1765 (or 6478 miles)
A Selection of entries:
1961 AC Greyhound
1930 Alfa Romeo 6C 1750 Zagato
2008 Aston Martin Vantage V8
1928 Bentley 3 Litre
1972 BMW 2002
1927 Bugatti T35C
1993 Caterham Super Seven
1968 Chevron B8
1952 Ferrari 212
2013 Fiat 500 Arbarth
1965 Ford Mustang
1952 Frazer Nash Targa Florio
1922 GN Thunderbug
1939 HRS Sports
1931 Invicta S Type
2003 Mercedes-Benz AMG C55 Estate
1986 Porsche 924S
2005 Subaru Impreza
1965 Sunbeam Tiger Mk I
1911 Vauxhall Prince Henry
1986 Vauxhall Nova
SPECTATOR INFORMATION
Spectators are welcome to attend free of charge so why not come and enjoy some of the first motorsport action of 2017!
There will be free access to the Competitor Paddock and the
BRDC Grandstand
will be open from where you can watch the track action.
Onsite catering facilities and Silverstone Merchandise Hub will be open from 0800hrs-1630hrs on the day.
Club Members will be able to enjoy exclusive access to a
Members' Lounge
located in the Brooklands Suite with a cash tea/coffee and snack facility (upon production of your 2017 VSCC Membership Card).
Provisional Timetable
0900hrs Morning Tests (in convoy)
1200hrs-1300hrs Lunch Break
1300hrs Regularity Session 1 (Pre-war)
1400hrs Regularity Session 2 (Post-war A)
1500hrs Regularity Session 3 (Post-war B)
1600hrs approx. End