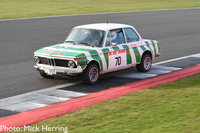 Tuesday 21 February 2017
Original Works Rally BMW 2002 triumphs at VSCC Pomeroy Trophy
Following Pre-war success in his 1928 AC-engined Frazer Nash in last year's event, David Wylie went one better this year to claim overall victory in his BMW 2002 at the Pomeroy Trophy at Silverstone on Saturday 18 February.
One of two cars built by BMW Motorsport for the 1974/75 season, the car was famously rallied in period by Achim Warmbold and co-driver John Davenport, scoring a significant victory in the 1975 Donegal International Rally. It was entered by KWS Autotechnic of Koblenz, Germany and sponsored by Radio Luxembourg, whose white and green livery still adorns the car today, and was the last Rally car made by BMW before the marque switched its focus to circuit racing.
The popular model boasts a history of success in the event, including three overall victories for James Diffey in his 1971 example between 1997 and 2002.
With a field-leading 17 entrants spanning both Pre- and Post-war period, Frazer Nash enjoyed yet more success this year, with Andrew Smith claiming the runner-up spot and the Densham Trophy as the top Pre-war performer in his 1926/29 Frazer Nash Super Sports.
Also in the Pre-war ranks, there was a notable triumph for young Rebecca Smith on her circuit racing debut in Alisdaire Lockhart's 1911/12 Prince Henry Vauxhall, provisionally named winner of the Pomeroy Edwardian Trophy as best Pre-1918 finisher, ahead of another of the Club's young competitors, Jack Bond in the Lockhart-owned Vauxhall A/D Type.
Other 1
st
Class award winners included past Pomeroy Trophy champions, Patrick Blakeney-Edwards (Austin Healey), Dudley Sterry (HRS) and Martin Hunt (Frazer Nash), the MG B pairing of Pia Bianchi and Martin Whitlock and the Chevron B8 of Andrew Hall, with Alex Ames the best placed 'modern' in his 2002 Renault Clio Cup.
Having passed the morning's Scrutineering processes, including the famous 'suitcase' check – all cars must be able to store two 'Le Mans' regulation size suitcases to prove their Grand Touring status or else attract a penalty – Competitors faced the traditional morning challenges, which include Driving Tests of speed and agility carried out in convoy, before taking to the Grand Prix Circuit for the afternoon's forty minute Regularity Trials to complete a designated target number of laps, determined by the event's complex formula, based on Laurence Pomeroy Jr's calculations of the efficiency of Grand Prix car engines.
Despite a misty start to the day, the sun eventually appeared during the afternoon as the event attracted a strong turnout of Spectators, who were welcomed free of charge to enjoy the venue's first official event of the year, with unparalleled access to the Competitor Paddock and viewing from the BRDC Grandstand throughout the day, whilst Club Members also had access to a new Members' Lounge located in the Brooklands suites.
The circuit said, "Silverstone are pleased to have opened its motor racing season with the VSCC Pomeroy Trophy, with the event attracting a record number of competitors nearly doubling that of previous years following the move to the Grand Prix Circuit.
"We have had a great response from the fans who attended the event and we look forward to hosting the VSCC Formula Vintage Round One in April where there will not only be plenty of Pre-war and Historic track action, but also plenty of off track entertainment planned to keep the whole family occupied.
"With a Vintage fun fair, massage trailer (perfect for those wanting to take a bit of time out), mini train rides – great for the little ones – steam engine and tractor displays, oodles of Vintage car displays and an Army interactive zone with real-life military vehicles."
Our thanks to Silverstone Circuits Ltd for allowing the Club access to Grand Prix Circuit this year and to their management and staff for their hospitality on the day. We also convey our thanks to the day's Officials, Marshals and other volunteers for their hard work throughout the event, in coping with the new arrangements and ensuring another enjoyable and safe day of motorsport for our Club Members.
Provisional Results are now available to download from the Pomeroy event page (CLICK HERE), where you can also view a full photo gallery of images from the day.