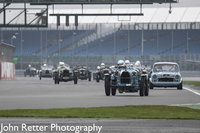 Wednesday 22 February 2017
THE POMEROY TROPHY 2017 – A BIG THANK YOU
A record entry, cars dating from 1910 to 2014, entrants age ranging from 18 to 88 years, 57 different marques represented – from Panda to Prince Henry, from Morris Woody to Type 35, from Mini to Grey Lady.
It was wonderful to see so many Club Members supporting the event, be they Competitors, Officials and Marshals or Spectators, all enjoying the
fun
of this unique and iconic event which so encapsulates the ethos of our great Club.
So the members of the 'Pom' Working Group – Tania Brown, Kevin Lee, Alisdaire Lockhart and Ian Standing – would like to thank all those involved in the Pomeroy Trophy meeting at Silverstone earlier this year – in particular the Club Staff who devised the
new
'Pom', which proved so popular with Competitors.
Also, our thanks go to the many Members who volunteered as Officials and Marshals, the 144 Members who entered the event this year and, last but not forgetting, to Guy Spollon for bringing the first 'Pom' winner to grace the event this year – the ex-Peter Binns Vauxhall 30-98.
No promises yet, but from the level of support the event has attracted this year, any thoughts of
the 'last night of the Pom'
have been comprehensively squashed and the new 'Pom' is here to stay – yippee!
CLICK HERE to read a full review of the day.