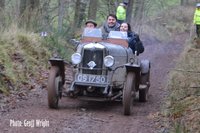 Friday 24 February 2017
VSCC Trials Season gets underway with the Exmoor Fringe this weekend
The start of the 2017 VSCC Trials season is upon us with the Exmoor Fringe Trial taking place tomorrow, Saturday 25 February, with 100 Pre-war cars and their crews scheduled to take part.
The Club's annual February visit to the South-West sees founder Graham White once again take the reins for the VSCC's traditional season curtain-raiser. It is sure to be another exciting day's Vintage motorsport, based again at the welcome surroundings of The Anchor Inn in Exebridge.
Such celebrated Pre-war marques as Austin, Bentley, Bugatti, Ford, Lea-Francis, MG, Morris, Riley, Vauxhall and more are entered, with crews scheduled to tackle 14 challenging sections throughout the day before a return to the Event HQ to share their experiences with their fellow 'mud-pluggers' and for the announcement of the all-important Results.
2016 Trials Champions, Matt Johnston (Austin 7; Short Wheelbase) and Paul Jeavons (Vauxhall 30-98; Long Wheelbase) will be in action whilst, following a Committee decision last May, the first four Trials of 2017 up to and including the Scottish Trial will be counted towards a combined 2016/17 Trials Championship – subsequent Championships will then run from the Welsh in October to the Scottish in April – so the front-running pair can expect to face plenty of tough competition as that contest hots up.
IMPORTANT NOTICE
All sections are now on private land, with difficult access and very limited parking space so please note that there are
STRICTLY NO SPECTATORS THIS YEAR
!
And don't forget...
Entries are now open for all our Trials for the first half of the year so get your entries in now to ensure you're in the mix – they're sure to fill fast!
Members can now enter online or download an Entry Form to complete and return at the relevant Event Pages – follow the links below:
John Harris (Derbyshire) Trial, Ashover, Derbyshire – 4 March – Limited spaces still available; please contact the Competition Department.
Herefordshire Trial, How Caple Court, Herefordshire – 18/19 March (CLICK HERE)
Scottish Trial, Biggar, Lanarkshire – 8 April (CLICK HERE)