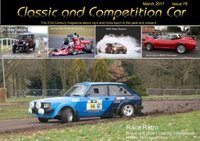 Thursday 02 March 2017
Classic and Competition Car – March 2017
The March Issue of Classic & Competition Car is now available to download, featuring reports from no fewer than three VSCC events, including the Measham Rally, New Year Driving Tests and the Pomeroy Trophy, which took place at Silverstone last month.
This month also has reports from Rounds 4 and 5 of the Tasman Cup Revival Series in New Zealand and, for Rally fans, pictures from WRC Rally Sweden. There are also reports from the Bromsgrove Motoring Club February meet and the MSVR Media Day at Brands Hatch.
Finally we have comprehensive coverage from Race Retro at Stoneleigh Park, including the live action Rally Stage and the Silverstone Auction.
Plus all our usual news and features.
Visit
www.classicandcompetitioncar.com
You can also now follow us on Twitter using @classcompcar or view our Facebook page Classic and Competition Car.