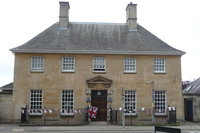 Wednesday 08 March 2017
VSCC AGM Proxy Form
A Proxy Form for this year's Annual General Meeting is now available to download.
Those not planning to attend this year can download the Form via the link below to print and return to the Club Office not less than 48 hours before the appointed time for the AGM, which takes place at 10.30am at the Hilton Hotel Warwick, CV34 6RE on Saturday 1 April.
CLICK HERE TO DOWNLOAD THE AGM PROXY FORM
For more information about the VSCC AGM weekend, combining the Awards Dinner on Friday and AGM, Marshals' Forum and Dinner on Saturday,
CLICK HERE
.