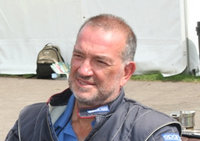 Monday 13 March 2017
Derek Howard-Orchard (1951-2017)
It is with great sadness that the Club announces the passing of Club Member, Derek Howard-Orchard.
Derek and wife, Gilly were taking part in a car rally in Australia this past weekend when they were involved in an accident in their Bugatti Brescia. Gilly was hospitalised and later discharged but tragically, Derek died at the scene.

A Member of the Vintage Sports-Car Club since 1990, Derek Howard-Orchard served on the Committee as a Club Director from 2001 to 2003, during which time he and Gilly organised the Club's Cotswold Rally (2002-04), based out of their local village of Guiting Power in Gloucestershire.

During the Club's 75th Anniversary celebrations at Malvern in 2009, Derek and Gilly organised the popular 'Cotswold Versatility Trial', based on an original motoring event which took place in the same area in 1913. Combining elements of Navigation Rally, Trials and Driving Tests, the day proved a great success with over 100 Pre-war cars taking part, with the 'new' format proving so popular that a similar event was held during the next VSCC Anniversary week at Peterborough five years later.

In 2010, Derek took on the role of Clerk of the Course of the Club's annual Cotswold Trial, having been a part of the organising team since its inception. Derek led the development of the event, which has become one of the VSCC's most popular. Accommodating a unique Novice Class, the Trial has long championed new and younger Club Members, an issue that Derek was always very passionate about.

When not carrying out the role of a Senior Official, Derek was a regular supporter and Marshal across the Club's other Trials, as well as a Competitor on Hill Climbs in his Bugatti T51 and other events in his Talbot 105. Derek and Gilly were also active Members of the Club's Light Car and Edwardian Section with their Austin 7, as well as numerous other motoring groups, including the Bugatti Owners' Club, where Gilly served as co-ordinator of the 'Friends of Prescott', loyally supported by Derek.

A vastly experienced Director and Event Organiser and moreover a kind, loyal and passionate Member who was always determined to see the Club progress and grow, Derek will be sorely missed by all at the Vintage Sports-Car Club.

Our thoughts are with Gilly, family and friends during this desperately sad time.