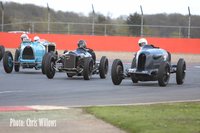 Monday 03 April 2017
Last Call for Entries for Formula Vintage – Round 1 at Silverstone - Closing Today!
This is a last call before entries officially close at the end of day today, Monday 3 April for the opening round of the Club's new Formula Vintage Race Season, taking place at Silverstone on the weekend of 22/23 April so be sure to join us at the home of British motorsport and submit your entries now!
To celebrate the launch of
Formula Vintage
, the long-established 'Spring Start' season opener for Vintage and Historic Racing in the UK returns to a full weekend programme for 2017, and will undoubtedly attract another full entry brimming with quality.
A familiar format will once again see the Club's celebrated Pre-war and Historic content take centre stage on the Saturday in the form of our illustrious GP Itala Trophy Races, catering for our core Competitors of Vintage, PVT and Historic Racing and Sports-Cars.
The GP Itala Trophy collection feature a number of the Club's most prominent silverware, including the title
GP Itala Trophy
Race
for Vintage Racing Cars (Set 1). In a repeat of last year's successful addition, we are also proud to again host the
Stanley Mann Cup
as part of this race, in honour of the highly-regarded Vintage Bentley specialist and long-time Club Member, with a special class open to any Pre-1931 Bentley car accepted by the VSCC, Bentley Drivers' Club or Benjafield's Racing Club – the latter co-founded by Stanley in 1990 in tradition of the celebrated 'Bentley Boys' of the 1920s.
The
Amschel Rothschild and Patrick Lindsay Memorial Trophies
Race
(Set 2) will again bring together the pinnacle of Racing Cars of the immediate Pre- and Post-war eras with revered marques such as ERA, Maserati, Bugatti, Alta, Cooper Bristol and more on show. The
Fox & Nicholl Trophy
Race
(Set 3) is sure to be a highlight with a guaranteed full grid of genuine Pre-war Sports-Cars whilst the
Silverstone Trophy
Race
accommodates the more modified road-going machines of the Special Pre-war Sports-Cars (Set 4).
As ever, Pre-war fans will also enjoy full grids competing in the ever-popular All-Comers Pre-war Short Scratch (Set 5) and Handicap (Set 6) formats.
To complement the day's VSCC line-up, we look forward to welcoming competitors of 1950s Sports and Sports Racing machinery for not one but two events on the day, including the Club's own 1950s Race as well as an Invited grid from the celebrated
FISCAR
series for their Tom Cole Trophy, whilst we also welcome back regular Club supporters, the
500 Owners Association*
for another F3 (500) Race, and the
HGPCA*
for the first of two prestigious Pre-1966 Grand Prix Cars races over the weekend.
Sunday will feature yet more of the Club's most popular events in the traditional early season
High Speed Trial
for those new to circuit racing and
Mike Stripe Team Relay Race
– both for Pre-war Sports-Cars – supported by additional Pre-war Short Scratch and Handicap races.
In keeping with the now traditional Invited grids as part of each of our race days, we welcome further Historic series to Silverstone too. Joining the HGPCA on Sunday will also be the
HRDC 'Coombs Heritage Challenge'*
for Pre-1966 Jaguar Touring Cars, as well as a double-header from the
AR Motorsport Morgan Challenge*
, who proved such a popular addition to the Club's racing programme last year.
Whatever car you drive, there is sure to be several events for you across the weekend so we hope to look forward to welcoming you to Silverstone in April and being part of 'Formula Vintage'.
Race Entry Fees:
from £170 (½ price for those VSCC Members under 30 years on 1 January 2017)
Entries Close:
Monday 3 April
*Enter for these races through relevant Series Organiser
Download Supplementary Regulations and an Entry Form, the latter to complete and return to the VSCC (post/fax/email accepted) at the Event Page (
CLICK HERE
). Club Members with a payment card registered with the Office and who know the Eligibility Buff Form number of the car they intend to enter can also use our online entry facility.
If you have any questions about our Silverstone event, please contact the Competition Department on 01608 644777 (ext 4, 5 or 6) or email
gemma.price@vscc.co.uk
Formula Vintage
is the new name for Vintage Sports-Car Club's racing programme. Entries are now open for
all
five rounds this year –
CLICK HERE
for more information.
CLICK HERE
to view the brand new
Formula Vintage
promo video at the VSCC YouTube channel whilst a new dedicated website (
www.formulavintage.co.uk
) and Facebook page (
www.facebook.com/FormulaVintage/
) are also now live.
Advance Spectator Tickets on Sale Now
Spectators can now buy their advance tickets for the Club's opening Formula Vintage round at Silverstone – don't miss your chance to save on the 'On the Day' prices and join us for what promises to be a spectacular start to the 2017 VSCC Race Season – CLICK HERE for more information.
Spectator Tickets and other information are now available for
all
of the Club's Race and Speed events in 2017.
Visit our Events calendar (CLICK HERE) for links to the relevant event pages and then select the 'Spectators' tab for more details.
Be sure to keep checking back as more information will be added to these pages as further details and attractions are announced.