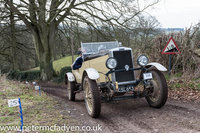 Friday 17 March 2017
Busy VSCC Trials Season continues in Herefordshire this weekend
This weekend sees the Club host the Herefordshire Trial, based at How Caple Court near Ross-on-Wye – a third Trial in four weeks for our loyal Club Members, as the discipline continues to prove to be amongst the most popular of VSCC events.
The idyllic surroundings of the Wye Valley awaits another capacity turnout of over 100 Pre-war cars for long-time Clerk of the Course, Mark Garfitt and team's annual event, which will follow its traditional Saturday lunchtime start through to a mid-afternoon finish on Sunday.
Saturday evening's traditional Supper Party will welcome both Competitors and Marshals alike at the Concert Barn, ever the social highlight of the weekend, where the all-important halftime scores will be on display.
As in previous years, we look forward to welcoming Spectators to come and watch the action at some of the sections over the two days. Saturday Hills will be open 12.00-5.30pm whilst Sunday runs 8.45am-2.30pm. Download a copy of the Spectator Information for full details including locations of those Hills open to Spectators and a complete Entry List (
CLICK HERE
).
As ever, the 2017 Trials have so far been hotly contested across all classes, a trend that looks set to continue in Herefordshire for the penultimate event of the specially extended 2016/17 Championships, which conclude with next month's Scottish Trial on Saturday 8 April (Entries Now Open –
CLICK HERE
)*
*
Following a Committee decision of May 2016, the Trials Season will henceforth run from the Welsh Trial (October) through to the Scottish Trial (April) starting in Autumn 2017.
With erstwhile leader, Matt Johnston – winner of the 2016 Trials Championship (Exmoor to Cotswold) – leading by a mere two points after February's Exmoor Fringe Trial, overall victory at the John Harris (Derbyshire) Trial a fortnight ago will have seen perennial challenger Don Skelton leap to the top of the standings. They go head-to-head in their Austin 7s again this weekend, with the pair of Ford Specials likely their closest rivals in Simon Price's Model A and the Model T of David Golightly, the winner of the Exmoor event.
Following consecutive Long Wheelbase Class victories in Exmoor and Derbyshire for his Vauxhall 30-98, 2016 Champion Paul Jeavons has closed the gap to leader, Jonathan Miller, but will need to continue his good form in Herefordshire and Scotland to deny the former's Chrysler 66 Sports the 2016/17 victory.
Amongst the Standard cars, David Rushton's MG M Type holds a seemingly unassailable lead in the Short Wheelbase Class provided a couple more solid performances, despite two convincing Class wins in 2017 for Charles Gillett in his Bugatti Brescia. Meanwhile, the pressure will be on young Rebecca Smith in her Ford Model A in the Long Wheelbase line-up to make it a hat-trick of silverware in her first three events this year, following Class victory in Exmoor and on track with Pomeroy Edwardian Trophy success at Silverstone.
CLICK HERE
to download the latest 2016/17 Trials Championships standings (up to and including the 2017 Exmoor Fringe Trial).
We wish Mark Garfitt and his team, and all those Competitors, Marshals and other officials taking part another wonderful VSCC weekend.