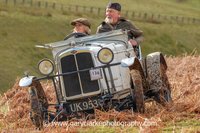 Friday 24 March 2017
Entries Closing Soon for the Scottish Trial
A reminder to all Trials competitors that the end of the special extended 2016/17 VSCC Trials Season is fast-approaching with next month's Scottish Trial on Saturday 8 April – entries close this Monday 27 March so if you have not yet entered, be sure to submit your entry now!
The last month has seen three fantastic Trials events in Exmoor, Derbyshire and Herefordshire so don't miss your last chance to compete again before the mid-year break and the start of the new season with the Welsh Trial in October so don't miss out!
Based once again on the Culter Allers estate of Club Member, Gerard McCosh and the stunning landscape in and around Biggar, Lanarkshire, 30 miles south of Edinburgh, the Trial is undoubtedly worth the effort for those who make the journey for one of only two competitive events based north of the border, with its challenging sections and breath-taking scenery. Long-time Clerk of the Course, Jock Mackinnon and team have found a winning formula, combining challenge and entertainment whilst maintaining the welcoming relaxed atmosphere the Scottish Trial is famed for.
The day also marks the final round of the 2016/17 Trials Championships, and the last chance to accrue those all-important points towards the standings. Running from last year's Exmoor Fringe Trial to the upcoming Scottish, the 10 best scores from the 11 events will count with the traditional bonus of 25 points to all those who entered the Scottish in 2016, and a further 15 points bonus for those who take part in this year's upcoming event.
Results of the final round could prove vital so we look forward to welcoming many of you for a great day of Vintage motorsport!
Entries close at the end of the day on
Monday 27 March
so don't hesitate and submit your entry now! Download Supplementary Regulations and Entry Form, the latter to complete and return (email/fax) or enter online at the Scottish Trial event page (
CLICK HERE
– remember you must have a current credit card lodged with the Club and know the Buff Form number of the car you intend to enter). The Online entry system will close at midnight.
If you have any questions, please don't hesitate to contact Non-Speed Secretary, Andrew Tarring on 01608 644777 (Ext 4) or email
andrew.tarring@vscc.co.uk
.