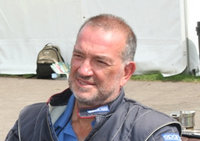 Wednesday 29 March 2017
Derek Howard-Orchard (1951-2017) – Announcement
The Memorial Service for Derek Howard-Orchard will take place at St Peter's Church Winchcombe, Gloucestershire GL54 5LU at 2.00pm on Wednesday 12 April.
To Register
To assist with the arrangements, if you plan to attend please register your name and that of those attending with you, as soon as possible please, at
dhomemorial@gmail.com
.
Further Information
Dress
The service will be a celebration of Derek's life so please feel free to wear brightly coloured clothes as he would approve of that. If you prefer to be more sombre then that's fine too.
Cars & Parking
Gilly would love to see a fabulous turnout of Vintage and other special cars to honour DHO and encourages everyone that can to bring them. If the weather is dry a dedicated parking area on flat grass will be opened, look out for signs near the Church. From this area there is a lovely view of St Peter's which is a short walk away. Otherwise on street parking is available or use Back Lane (behind the library) and Bull Lane car parks.
Privacy
Some of you may wish to take photographs outside the church as a personal reminder of the day but the family request you respect their privacy by not posting these or commenting on social media.
Before and after the service
For those of you who would like refreshment or lunch beforehand the White Hart and the Lion inns are recommended but you may need to book for food, both have atmospheric albeit small bars. The Corner Cupboard inn and Plaisterers Arms are close to the Church and our local cafe and delicatessen, Food Fanatics, serves good coffee and light lunches.
All attending the Service are warmly invited to join Gilly afterwards at the Clubhouse, Prescott Hill Climb, Gretton GL52 9RD where afternoon tea will be served and we can raise a glass to DHO.