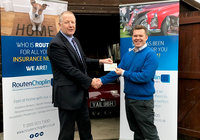 Tuesday 04 April 2017
Routen Chapin £500 Prize Draw Winner is VSCC Member
Throughout 2016 Routen Chaplin ran a £500 Prize Draw online and at a number of events across the country, with over 160 people entered at events including Prescott, Oulton Park, Silverstone and Donington Park.
We are delighted to announce the winner of the £500 Prize Draw was VSCC Member Mr T Briars. Steve Beeley, Managing Director at Routen Chaplin presented Mr Briars with his cheque earlier this year (pictured).

Although no longer Principal Associates of the Club, Routen Chaplin are very proud of their longstanding relationship with the VSCC and the bespoke insurance they offer for Classic, Vintage and modern classic cars.