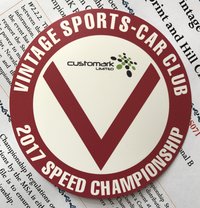 Monday 04 September 2017
Speed Championship 2017 Update
Changes to our Speed Championship 2017
Competitors should be aware that due to unforeseen circumstances the Club was not able to finalise arrangements for the Autumn Sprint to be held at Goodwood this year and so alternative arrangements were made to run on the National Circuit at Rockingham.

For Rockingham to be included in the 2017 VSCC Sprint and Hill Climb Championship the MSA regulations require every registered Competitor to approve the change of venue in writing. As it is an auto enrol Championship that would require 565 individual Competitors to confirm in writing that they agree to the change. The Club has concluded that this will not be practical to achieve and so has regrettably had to accept that the Autumn Sprint will not form part of this year's Sprint and Hill Climb Championship. Accordingly, 8 out of 9 rounds will now count towards the final results with the last round of the Championship held at the Prescott Long Course on 23 September. Therefore, you may wish to consider a late entry for the Snetterton Sprint if you were relying on the Autumn Sprint to count towards your season's endeavours.

To mark the close of the season at Rockingham there will be a complimentary lunch for all Competitors including presentations of the 2017 Class Awards. Therefore, the Club hopes that Competitors will continue to support the Autumn Sprint, and the VSCC's first outing on the National Circuit at Rockingham, by joining us to bring the Race and Speed Season to a successful close.