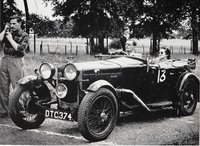 Friday 08 September 2017
Madresfield 70 Anniversary Driving Tests
Dick Wilkinson and his team have been working tirelessly to make the Madresfield celebrations a not to be missed event.

By trawling the original entry list they are hoping to get some of the original cars or examples of cars that have featured in the history of Madresfield.

The archives have been raided for photos showing the history of the VSCC event, Sprint days and also "Magnificent Men and their Flying Machines" for us all to enjoy.

Hopefully we will have a couple of early Sprint cars to illustrate the Pre-War sprints held on the drive.

At Lunchtime Ben Cox will fly over in a Gypsy Moth. (Weather permitting).
The tests start at 11.30 with the event involving five simple, fun Driving Tests along Gloucester Drive. Also included are two Concours elements, a Competitors' self-judged Concours for the Montagu Trophy and one for Spectators' Pre-war cars, for the Bob Watt Cup so please come in your Pre-war Car and make the spectators display even larger than it is normally.

The Rotary Club will be in attendance with their field kitchen for those without a Madresfield picnic.

Please be aware that The Tour of Britain is coming through Upton on Severn and onto towards Ledbury (on the A4104 and A449) between 11.15 and 11.45 and delays could be experienced.

The only permitted access to the venue is through the lodge gates from the B4424 Powick to Upton-upon-Severn road (OS 150 GR 829479) which will be well signposted.