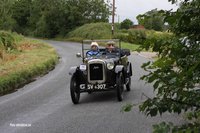 Wednesday 13 September 2017
Last Call for the Norfolk Tour!
This is the last call for Norfolk Tour entries!
Join us this weekend for a Tour around parts of Norfolk, starting at the Snetterton Racetrack, which will be host to a weekend full of motorsport and historic cars. This Saturday the Tour will depart from Snetterton, offering drivers the chance to explore the surrounding area for a few hours whilst the racing gets underway at Snetterton.
The poet and author Sir John Betjeman had much to say about North Norfolk and The Broads, besides his better known works on "Metroland" to the north and west of London, and some of these observations will be seen in the Tour Booklet for the event.
The Tour will run from approximately 09:30 - 14:00, with drivers arriving back at Snetterton in time for the track's afternoon activities.
For more information and to enter, please click
HERE
.