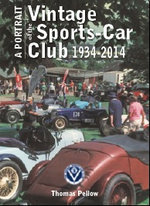 "A Portrait of the Vintage Sports-Car Club, 1934-2014" (Book)
This high specification hardback of some 288 pages, illustrated by 60 photographs and 20 cartoons, is priced at £35 (+ £5 P&P for UK delivery) with a print run strictly limited to 1000 copies.
The Official Launch of the book took place at the Club's Awards Dinner at Chateau Impney.
Purchase your copy online now or complete the Order Form included in future Newsletters.
Overseas Members are advised to contact Gill Batkin at the Office on 01608 644777 (ext 9) or email gill.batkin@vscc.co.uk.
Price: £35.00 (VAT doesn't apply)