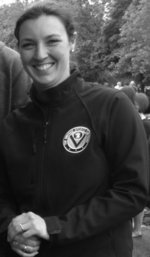 Competition Secretary
Gemma Price
Tel: 01608 644777 ext 6
Gemma has worked within the Competition Department since she joined the Club in 2010 and currently holds the post of Competition Secretary. She is responsible for the delivery of the Club's Race Calendar as well as leading the Competition Department in general.

Gemma's background is dominated by motorsport. Originally from Wolverhampton she started to compete in Navigation Rallies aged 12 with her Dad, and marshalled most weekends on Production Car Trials, Autotests and Rallies. Aged 16 she progressed to Stage Rally Co-driving taking on events within the BTRDA, ANCRO and BRC rally championships In 2001 she progressed to the European Rally Championship in a Toyota Corolla WRC.

In 2003 Gemma joined Ford contesting the World Rally Championship with privateer driver Antony Warmbold, competing in 16 countries on five continents over an 11 month period for two years in their Ford Focus WRC. Their best result was eighth overall, in Japan, Turkey and Sardinia, making Gemma the only female British MSA Competition License holder to have secured WRC Championship points to date. The next step was to contest the Spanish National Rally Championship, the Middle East Rally Championship and the British Rally Championship all within a 12 month period, bringing her a grand total of competing in 38 different countries before deciding to step away from full time competition to build her career.

In 2009 Gemma joined the Morgan Motor Company as Centenary Co-ordinator organising numerous events designed to celebrate 100 years of Morgan. These ranged from a Gala Dinner for 1000 people to track days and family fun days, plus everything in between!