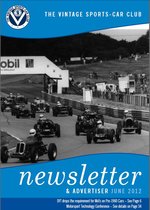 VSCC Newsletter
The
Newsletter
is delivered to all Club members across the globe monthly. An all colour publication for several years, the
Newsletter
provides the following information to members:
Event previews and entry information
Details of the VSCC monthly pub meets
Invitation to participate in other motoring events not organised by the VSCC
Results of VSCC events
Editorial from our Principal Associates
The main interest in the Newsletter is the 'Classifieds' section at the back of the magazine which are colour coded. These hallowed pages are renowned as the place to purchase the best Vintage cars for sale by discerning Club members. Members also advertise rare spares and miscellaneous items such as non-eligible cars, trailers and motor houses. The Newsletter now carries more trade advertisements than ever before. From Pre-selector Gearbox specialists to luxury Alpine Ski Chalets, you can advertise virtually anything in the VSCC Newsletter for a very reasonable fee and it will be seen by approximately 7,500 potential customers
And what's more, anything advertised in the Newsletter is also uploaded to our classifieds online for no additional fee
Members can download previous editions of the Newsletter off this webiste by logging in with their membership number and PIN
If you would like more information about advertising in our quarterly
Bulletin
or
monthly
Newsletter
, please
click here
to email Gill Batkin or call 01608 644777 (ext 5).