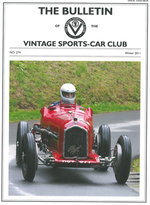 VSCC Bulletin
The
Bulletin
of the Vintage Sports-Car Club is the mainstay of the Club. Printed quarterly, it is held with high regard amongst the Pre-war car movement as the authority on this period of motoring. The magazine includes articles on specific cars, models and manufacturers as well as the characters and enthusiasts involved in Vintage and Historic motoring.
Importantly the magazine reports on all of the Club's events (over 35 a year), from Race Meetings to Social Tours, all of the Club's activities are well reported.
In 2006 the American based 'Society of Automotive Historians' awarded the
Bulletin
the 'Brigham Award' for the best overall treatment of automotive history.
The
Bulletin
averages 100 pages per issue, it is slightly smaller than A4 and is printed in full colour (mono advertisements are also available). The
Bulletin
is mailed to the entire VSCC Membership which currently stands at 7,300 (approximately 400 are based overseas). Advertisers and distinguished members of the press receive a complimentary copy.
Vintage Sports-Car Club Members are typically high net worth individuals who own more than one Pre-war vehicle and Post-war cars. They are knowledgeable in their field and highly enthusiastic about their hobby.
The
Bulletin
is published quarterly at the beginning of March, June, September and December.
If you would like more information about advertising in our quarterly
Bulletin
or
monthly
Newsletter
, please
click here
to email Gill Batkin or call 01608 644777 (ext 9).