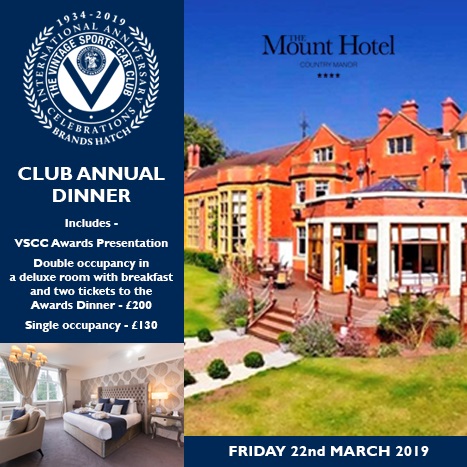 The Club's Annual Dinner next year will be held at The Mount Hotel on the outskirts of Wolverhampton on Friday 22nd March. The Dinner will include presentation of the awards to the trophy winners for the 2018 Season, but it is first and foremost the Club's Annual Dinner and so we are hoping to see both competing and non-competing Members.
Following feedback from those who had attended these dinners over the past few years it has been decided that the dress code for the Club Dinner should be Black Tie. The evening will also commence with a Drinks Reception and conclude with an After-Dinner Party for those who wish to attend. After dinner there will also be a bar where Members can retire to if they do not wish to party!
The Dinner will be a three-course meal, with wine and will be held in the English Renaissance style Grand Hall which dates back to 1908. The Grand Hall seats 110 guests, so please book early to avoid disappointment.
Bookings are on a Dinner, Bed and Breakfast rate because the Club has booked out the hotel just for VSCC Members so please support the Annual Dinner.
Whilst there are no discounts for bookings of tables of 10 or for awards winners, if you have particular seating requests please email these to Gill and we will do our best to accommodate them (gill.batkin@vscc.co.uk).
Dinner, Bed and Breakfast Packages are available as follows:
Single Occupancy in a Deluxe or Executive Room - £130 (one ticket to the Dinner)
Double Occupancy in a Deluxe or Executive Room - £200 (two tickets to the Dinner)
There are five Deluxe Suites available at a £50 supplement as well as two Executive Suites available at a £100 supplement on a first come basis. If you would like to stay in one of the Suites please contact Gill as you are unable to book these rooms online.
Please note that payment is required at the time of booking and cancellations are charged in full.
One Person
Single Occupancy in a Deluxe or Executive Room and one ticket to the Dinner
Price: £130.00