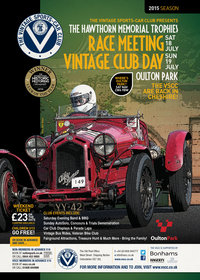 Friday 03 July 2015
Entries Closed for VSCC Oulton Park Race Meeting - Call Now for late entry availability
Call the Office now for late entry availability for VSCC Oulton Park! And don't forget that we will also be hosting our Vintage Club Day on the Sunday, with plenty of activities for the whole family and with free Camping available to everyone onsite, why not join us for what promises to be a fantastic weekend.
Online Entry System is now closed. Contact the Competition Department for late entry availability now on 01608 644777 Ext 4 or comps@vscc.co.uk.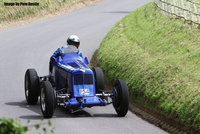 Thursday 02 July 2015
The VSCC head to Shelsley Walsh for the MAC Vintage Hill Climb this weekend
Ever the highlight of the Club's events calendar, the Midland Automobile Club's Shelsley Walsh Hill Climb plays host to the Vintage Sports-Car Club this weekend, bringing together two of today's most celebrated names in Pre-war motorsport on Sunday 5 July.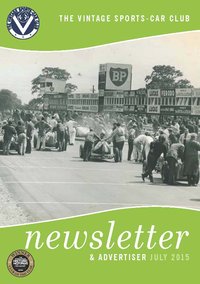 Wednesday 01 July 2015
July 2015 Newsletter Now Available to Download
The July edition of the Newsletter is now available for Club Members to download.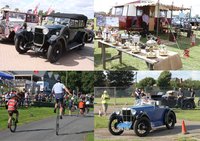 Tuesday 30 June 2015
An Invitation to the our Vintage Club Day at Oulton Park this July
All Vintage and Classic Car enthusiasts are cordially invited to attend the Vintage Sports-Car Club's Vintage Club Day at Oulton Park on Sunday 19 July, a wonderful 'Garden Party' and perfect complement to the highly anticipated return of our celebrated Pre-war and Historic Racing programme to the circuit.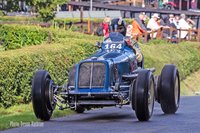 Monday 29 June 2015
Advance Ticket Sales for Shelsley Walsh Close Tomorrow
Tomorrow is your last chance to purchase your advance tickets for the ever-popular Vintage Hill Climb event at Shelsley Walsh, taking place this Sunday 5 July.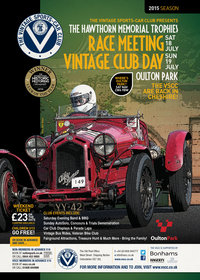 Friday 26 June 2015
Entries Closing Soon for VSCC Oulton Park Race Meeting
The VSCC returns to Oulton Park next month with our Hawthorn Memorial Trophies Meeting on Saturday 18 July. Entries close soon but with availability still across the day's grids, there is still time to submit your entries and join us for this special event!