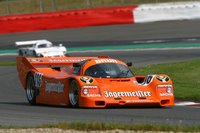 Tuesday 04 February 2014
EXCEPTIONALLY RESTORED FERRARI AND RACING PORSCHE SET TO SHINE AT BONHAMS PARIS SALE
Ferrari 275GTB/4 Berlinetta and racing Porsche 962C for sale at Bonhams Les Grandes Marques du Monde at the Grand Palais on 6 February.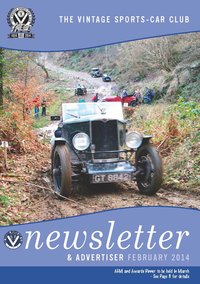 Monday 03 February 2014
February Newsletter Now Available to Download
The February edition of the Newsletter is now available for Club members to download.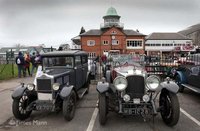 Friday 31 January 2014
Sun to shine on Brooklands this weekend for the VSCC New Year Driving Tests
Following weeks of gloom and rain, forecasts anticipate a day of sunshine at Brooklands Museum in Weybridge Surrey this weekend so why not join us this Sunday 2 February as the birthplace of British Motorsport and Aviation plays host to the VSCC's annual New Year Driving Tests event.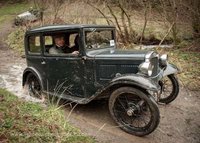 Thursday 30 January 2014
Marshals required for the first VSCC Trial of the season
Are you looking for a New Years Resolution that doesn't involve giving up something that you love? Then why not make your resolution to give something back to the Club and sport that you love the most and support the VSCC by marshalling this year?

One of the Club's most popular and well-supported disciplines, the VSCC 2014 Trials Season is almost upon us and begins, as is tradition, with the Exmoor Fringe Trial on Saturday 15 February. We are still seeking marshals to support this event.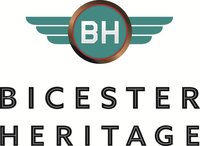 Wednesday 29 January 2014
Bicester Heritage on board for VSCC 80th Anniversary Celebrations
We are delighted to announce Bicester Heritage, the UK's first and only business campus dedicated to historic motoring and aviation, is supporting the VSCC 80th Anniversary by sponsoring the commemorative rally plates which will be affixed to each Pre-war car taking part in the events during the celebrations.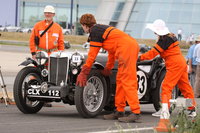 Tuesday 28 January 2014
Volunteer to Marshal with the VSCC in our 80th Anniversary Year
Members will shortly be receiving a copy of the 2014 Marshals' Volunteering Form with their February Newsletter. However, why not get a head start and volunteer for 2014 VSCC Events now at our Marshalling Pages online?