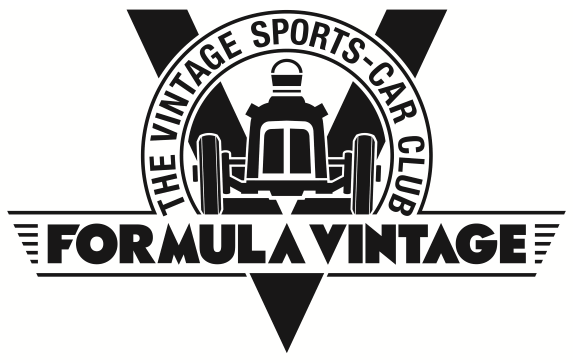 Formula Vintage - Round 1 - Silverstone
13 Apr 2019 - 14 Apr 2019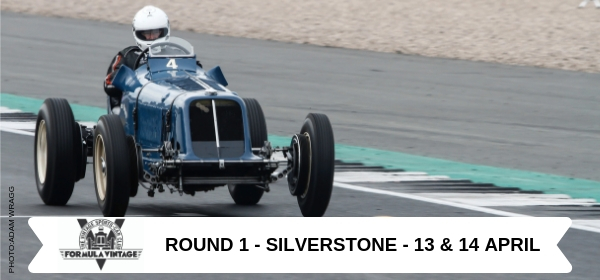 The opening round of the 2019 Formula Vintage Championship will take place on the national Circuit of Silverstone over the weekend of 13 and 14 April.

The action packed two day event builds upon the history of the traditional Spring Start Race Meeting and VSCC racing at Silverstone which dates back to April 1949.

Seventy years later, the April Race Meeting at Silverstone remains one of the VSCC's most popular events with spectators and competitors alike. The action packed two day event builds upon the history of the traditional Spring Start Race Meeting and VSCC racing at Silverstone which dates back to April 1949.

Event Timetable

Friday 12th April
1600hrs – 1800hrs Signing On Garages 12d – 12e
1600hrs – 1815hrs Scrutineering Scrutineering Bay
1830hrs Drivers Briefing Woodcote Media Centre

Saturday 13th April
0730hrs - 0945hrs Signing On Garages 12d – 12e
0730hrs – 1015hrs Scrutineering Scrutineering Bay
0800hrs – 1015hrs Drivers Briefings Commence Woodcote Media Centre
0830hrs Engines may be started
0900hrs – 1150hrs Practice Sessions
1200hrs Race 1 – Standard & Modified Pre-war Sports Cars
1225hrs Race 2 – Vintage Racing Cars
1250hrs Race 3 – Special Pre-war Sports Cars
1315hrs Race 4 – Pre-1961 Racing Cars
1330hrs – 1430hrs Lunch Break including GRID WALK
1410hrs Drivers Briefing – Benjafields start drivers only – Le Mans start procedures
1430hrs Race 5 – Benjafields 100
1525hrs Race 6 - Short Handicap Race
1550hrs Race 7 – HGPCA
1620hrs Race 8 – Standard Racing & Sports Cars, plus Allcomers Scratch Race
1645hrs Race 9 – Short Handicap Race
1710hrs Race 10 – Short Scratch Race
1800hrs Curfew

Sunday 14th April
0730hrs – 0900hrs Signing On Garages 12d – 12e
0730hrs – 0915hrs Scrutineering Scrutineering Bay
0800hrs – 0920hrs Drivers Briefings Commence Woodcote Media Centre
0830hrs Engines may be started
0900hrs – 1135hrs Practice Sessions
1135hrs – 1225hrs Lunch Break
1225hrs Race 11 – HRDC Allstars
1305hrs Race 12 – HGPCA
There is no Race 13
1335hrs Race 14 – AR Morgan Challenge
1405hrs Race 15 – Hawthorn International & Tom Cole 1950s Race
1445hrs Race 16 – HRDC Classic Alfa Challenge
1525hrs Race 17 – AR Morgan Challenge
1555hrs Race 18 – HRDC Coys Trophy
1650hrs Race 19 – F3 500s
1800hrs Curfew
Aside from the exciting action on track, 'Formula Vintage' will again offer the Spectator all that is great about attending a VSCC Race Meeting, with free access to the Paddock, where you can get up-close to the cars and drivers, a mouth-watering display of cars from our Principal Associates Bonhams, an AutoSolo in the Outer Paddock area during Saturday morning, onsite catering facilities, Car Club displays, a busy Trade Village and much more 'Vintage' entertainment for the whole family.
Spectator Downloads
Pit Stop Cafe menu
Tickets now available on the gate £20 per day.
Saturday 13th April
A truly Vintage Racing Day Out with the content on the opening round of our championship featuring Pre-war cars in the main, with the welcome addition of the Historic Grand Prix Cars Association.
Races featured at this event are detailed below, with race order to be confirmed in due course.
51st GP Itala & 57th Lanchester Trophy Race for Vintage Racing Cars - 15 minutes
21st Amschel Rothschild & 34th Patrick Lindsay Memorial Trophy Race for Front-Engined Pre-1961 Racing Cars - 15 minutes
47th Fox & Nicholl Trophy Race for Standard & Modified Pre-war Sports-Cars - 15 minutes
11th Silverstone Trophy Race for Special Pre-war Sports-Cars - 15 minutes
Short Scratch for all Pre-war Cars - 10 minutes
Short Handicap for all Pre-war Cars - 5 laps
Standard Pre-war Racing & Sports Cars - 15 minutes
Historic Grand Prix Car Association - 20 minutes
Benjafields Bentley Centenary Race - 60 minutes

Sunday 14th April
Our tribute to Historic Racing takes place on Sunday 14th April, with a day dedicated to the era of cars that immediately follow the Pre-war period.
The races detailed below will feature during the meeting, with final race order to be announced in due course.
31st Hawthorn International Trophy Race & Tom Cole Trophy Race - 1950 Sports Racing Cars & FISCAR - 30 minutes
Historic Grand Prix Car Association - 20 minutes
AR Racing Morgan Aero Challenge - 2 x 20 minute races
HRDC ALLSTARS - 30 minutes
HRDC COYS TROPHY - 45 minutes
HRDC CLASSIC ALFA CHALLENGE - 30 minutes
F3 500s - 15 minutes
This page shows the named trophies awarded at this meeting and the associated aggregate trophies.
To see the index for all trophies click here
To see the current leaders for this year's aggregate championship click here
To see your personal results click here
Click a trophy name below to see the trophy picture and past winners.
Follow signs off the A43 south of Towcester
Northampton Tourist Information, Northampton Museum & Art Gallery, Guildhall Road, Northampton, Northamptonshire, NN1 1DP, tel 01604 838800/01604 838801
http://www.explorenorthamptonshire.co.uk
Please contact Lesley and Mark at Homeside B&B, a family-run B&B on the Dadford Road, Silverstone, about ten minutes walk to the circuit.
www.homesidesilverstone.com
Please contact the Competition Department on 01608 644777 or email colette.trippick@vscc.co.uk
The entry list is only available to logged in members.