EVENT INFORMATION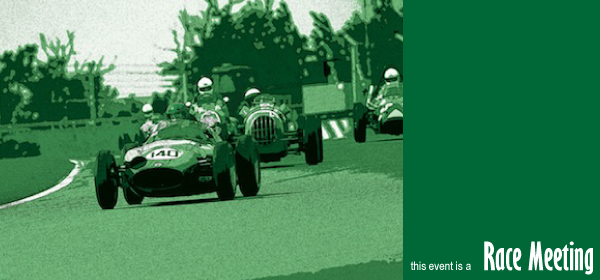 We are thrilled to return the Club's most prestigious Seaman Memorial Trophies Meeting to Norfolk in 2014 bringing our racing season to another fitting finale. We will once again take to the venue's SN200 circuit with its blend of long, fast straights and technical, sweeping bends, which suit our cars so well.
In addition to the Club's regular established racing 'Sets' for Vintage, PVT and Historic Racing and Sports-Cars, we also look forward to one of the Club's most historic events, the Spero & Voiturette Trophies Race, which this year we open up to all small capacity Pre-war Racing & Sports-Cars up to 1100cc (with additional awards for those not eligible for the named trophies), a Special Race for the most original Standard & Modified Pre-war Racing Cars (again supported by Sean Danaher Restorations) and an ever-popular race for 1950s Sports Racing Cars.
As you would expect from an MSV managed circuit, facilities are excellent and we hope we can expect another stellar crowd on the banking to see us in action. In fact, so well received was the 2013 edition by our competitors, as well as the local membership and marshalling communities, we anticipate another fantastic turnout – so don't miss out!
LIVE MUSIC IN THE CREAM TEA TENT
Throughout the day, you will be able to enjoy your favourite selection of tea, scones and assorted cakes from the tent near Tyrells restaurant.To help put you in the vintage spirit - The Ashby Big Band will be playing sets throughout the day in the tent. The band is one of the best Glenn Miller/Swing'When You're Winning tribute bands in the country.
The full race programme will include:
| | | |
| --- | --- | --- |
| Vintage Seaman Trophy (Pre-1931 Vintage Racing Cars) | Set 1 | 15 mins |
| Historic Seaman Trophy (Pre-1941 Racing Cars) and Flockhart Trophy (Pre-1961 Racing Cars) | Set 2 | 20 mins |
| Mallory Mug (Standard and Modified Pre-war Sports-Cars) | Set 3 | 12 mins |
| Mallory Park Trophy (Special Pre-war Sports-Cars) | Set 4 | 12 mins |
| X 2 Scratch Races for Pre-war Cars | Set 5 | 8 mins |
| X 2 Handicap Races for Pre-war Cars | Set 6 | 5 laps |
| Standard and Modified Pre-war Racing Cars (Special Event) | | 15 mins |
| Spero and Voiturette Trophies (for Pre-war Cars up to 1100cc) | | 10 mins |
| 1950s Sports Racing Cars | | 15 mins |
Facilities info:
Refreshments • Bar • Toilets • Camping • Showers • Parking
Timetable (approx)
: Practice from 9.00am; Racing from 1.00pm
Images for Snetterton Race Meeting