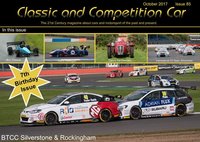 Friday 06 October 2017
Classic and Competition Car 7th Birthday Issue - October 2017
The 7th Birthday Issue of Classic and Competition Car is now available to download. This bumper issue includes a report from the VSCC Madresfield Driving Tests.
This month's anniversary issue also features action from the the two rounds of the British Touring Car Championship BTCC, the British Hill Climb Championship at Prescott and some historic action from the Endurance Rally Association ERA Blue Train Challenge across France.
Visit
www.classicandcompetitioncar.com
You can also now follow us on Twitter using @classcompcar or view our Facebook page Classic and Competition Car.