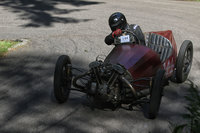 Wednesday 16 May 2018
Vintage Cars, Bluebells & Family Fun Fill Wiscombe Park
The Vintage Sports-Car Club headed South last weekend for Round 2 of the Speed Championship held at the breathtakingly beautiful Wiscombe Park. With glorious sunshine, much like the previous weekends' at the Curborough Speed Trials, the action on track was exhilarating and the Paddock buzzing with activity.
With the absence of last years' Fastest Time of the Day winner, Terry Crabb in his 1937 ERA 12C, the honour fell this year to Julian Grimwade in his 1934 Frazer Nash Single Seat Special with a time of 48.10 seconds. Another notably brilliant performance came from Charlie Martin in Justin Maeers' 1930 Morgan Special who secured the Fastest Time by a Vintage Car with an impressive time of 49.05 seconds. The Fastest Young Driver Award was whipped up by Robin Gale in his 1934 Riley Special with a fantastic time of 53.82 seconds.
Curborough's Fastest Time of the Day winner Ian Baxter in his 1937 Alta 61 struggled to retain the top spot with Ian believing that the issue arose from changing his fuel to Methanol. There is ample time before Round 3 of the Speed Championship at Brooklands to sort any technical issues. Will there be a head to head for Fastest Time of the Day at the Brooklands Sprint between Ian Baxter and Julian Grimwade or will Terry Crabb's ERA be back with a vengeance?
The Speed Championship now takes a little rest before heading to Brooklands Sprint for Round 3 on 16 June. The Vintage Sports-Car Club's next Event sees the return of Formula Vintage – Round 2 at Oulton Park on 19 May, which will also include an AutoSolo and the Oulton Park Concours.
The results for the Speed Championship – Round 2 – Wiscombe Park will be Provisional for 7 days before going Final. The Provisional results will be available within the next few days by
CLICKING HERE
.
For further information on the Speed Championship – Round 3 – Brooklands Sprint
CLICK HERE
.
Photo: Derek Hibbert