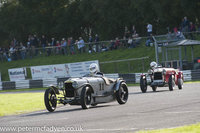 Monday 07 October 2013
Closing the Racing Season in Spectacular 'Nash Style (Results now Live)
Frazer Nash Super Sports racer, Frederic Wakeman won yesterday's Vintage Sports-Car Club race for Pre-war Sports-Cars, a one-off invited grid to the Castle Combe Autumn Classic event.
The Wiltshire circuit was alive with classic nostalgia and atmosphere thanks to a paddock filled with Historic Aston Martins, Jaguars, Austin Healey's, 1950s Sports-Cars and Formula Junior cars. The crowds poured in as the sunshine broke through the morning mist and enjoyed several parades featuring motorsport celebrities and exclusive historic competition cars including our own member, Julian Bronson in his Scarab Formula 1 car, prior to the green flag waving for the start of the Historic Aston Martin Race.
Fred had made the most of a clear run in practice and qualified on pole with a three second advantage ahead of Andrew Mitchell who was making his sixth VSCC circuit appearance this season in his HRG ½ litre. Third placed man, Mark Brett made a storming start and flew into the lead but Mitchell nipped ahead at 'Camp Corner'. Fred also reeled in the V8 Ford racer on the second lap and the two charged ahead to open up a considerable lead on the 20 or so competitors that were enjoying great tussles throughout the field. A charge from the 'Nash was inevitable and he made a clean pass on Mitchell going into Quarry for the lead, but Mitchell was ever-present in his mirrors to the flag.
As Fred and Andrew led the charge, there was a great tussle emerging for 3
rd
– 4
th
– 5
th
and 6
th
places and from this bunch emerged a great duel between brothers, and respective Frazer Nash experts, Patrick and Simon Blakeney-Edwards. Patrick had been wowing the crowds from the outset, drifting his nimble Frazer Nash 'Owlet' with great verve at every corner, hot on the heels of his sibling who was travelling well in his Frazer Nash 'Shelsley'. The crowd held their breath as the duo thundered down the East side of the circuit towards the start/finish line to the chequered flag, Patrick made a last ditch attempt to pass at 'Camp' with skilful enthusiasm, but Simon held his nerve and took the final podium place by half a car length.
It was smiles all round for the VSCC competitors at the post-race awards presentation, all had experienced a thrilling race and the wonderful relaxed clubman's atmosphere at the Castle Combe Autumn Classic set the perfect tone with which to conclude the VSCC Racing Programme for 2013.
Photographs are now live at the bottom of the
Castle Combe page on this website (link)
,
Click Here to Download Results of the VSCC Pre-war Sports Cars Race
Full Results for Castle Combe Autumn Classic Meeting can be found at TSL Timing Website (
Click Here
)