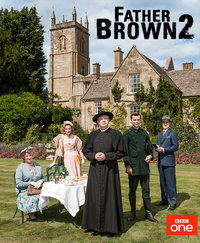 Tuesday 14 January 2014
VSCC Member Cars the 'Stars of the Show' on the BBC's 'Father Brown' this Friday
Following three days of filming at the historic Shelsley Walsh Hill Climb venue last year, a number of cars owned by our Club Members will be appearing in TV series 'Father Brown' this coming Friday 17 January on BBC 1 at 2.15pm.
The Historic Motor Racing episode – entitled 'The Laws of Motion' – will be the tenth of the second series of the popular BBC Drama, based on the stories by GK Chesterton about a crime-solving Roman Catholic priest, starring Mark Williams.
Sam Hill of the BBC says the cars are 'definitely the stars of the show' so don't miss it.
Read more about the BBC's 'Father Brown'
Click Here
.