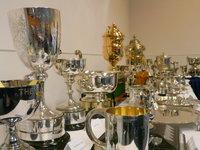 Tuesday 15 December 2015
It's time to return your VSCC Trophies
All Annual and event Trophies are now due to be returned to the Club Office.
As the end of the 2015 season fast approaches, with next weekend's Winter Driving Tests curtain-closer at Bicester Heritage on Saturday 5 December, we kindly ask all current holders of the Club's annual and individual event trophies to start making arrangements to return these to us now so they can be engraved and prepared for presentation at the Club's forthcoming Awards Night in March.
Our 2016 Annual Awards Dinner will celebrate the achievements of the Club's 2015 Award Winners and will take place on the evening of Friday 18 March 2016 at the Hilton Hotel, Warwick. The dinner will be open to all Club Members and their guests but in the event of over-subscription, priority will be given to award winners and their guests.
The cost is £35 per person (with a special 20% reduction for award winners) or £315 for tables of ten and this will include a three course meal with wine to order, alongside the presentation of the illustrious awards in the company of our guest of honour.
Please note that those wishing to claim either the winner's discount or table of ten offers will not be able to book online and must complete a Booking Form or book directly with Gill Batkin. Further details of the weekend's programme, including accommodation options and Booking Form are enclosed in the upcoming December Newsletter whilst the online ticket system will be available soon.
As last year, this event will also be combined over the weekend with the Club's Annual General Meeting and the Marshals' Forum and Dinner, which will all be held at the same venue on Saturday 19 March. Nominations for election to the Club's Committee are due now (see the latest Newsletter for more details). A list of candidates for election will be issued with the February Newsletter along with the Annual Report and Accounts.
We are confident that the close proximity to the motorway network (the Hotel is located just off Junction 15 of the M40) will be popular with Club Members who will give their full support to the weekend.
You can now find full details of the Club's trophies online. Click
here
to visit our new Trophies pages where you will find photos and descriptions of all Club trophies.