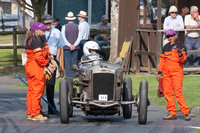 Friday 24 January 2014
Marshals' Training with the VSCC in 2014
The Vintage Sports-Car Club's Training Programme this year will again be offering a variety of training opportunities to both experienced and novice marshals this season, with the first session taking place alongside our Pomeroy Trophy event at Silverstone in February.
UNDERSTANDING THE NEW FLAG AND OVERTAKING REGULATIONS AND THE NEW TRACK LIMITS
Silverstone Circuit, Saturday 22 February
Purpose:
A short update for circuit racing marshals on the new flag regulations, waved yellow and green flags at an incident, use of the green flag, the overtaking regulation that permits only one change of direction to defend a position and the new track limits, only one wheel over the white line or outer edge of the kerb.
Can you waved two yellow flags at the same time? Find out how by attending.
As in previous years, the session will take place in the morning, allowing volunteers to then go trackside for the Pomeroy afternoon High Speed Regularity sessions (remember to volunteer for both elements).
AN ESSENTIAL UPDATE FOR ALL TRACK MARSHALS
Where
: Paddock Bar Silverstone Circuit, Towcester, Northamptonshire
When:
Morning of the Pomeroy Trophy meeting
Duration
: 09.30-11.00
Trainer:
Alan Couper MSA Training Instructor
Volunteer to:
Andy Halstead Competitition Administrator 01608 644777 Ext 4 or email
andy.halstead@vscc.co.uk
There will also be two further sessions later in the season, including:
TRAINING FOR CLUB STEWARDS (BY INVITATION ONLY)
Holiday Inn Express, Banbury, Saturday 8 March
Purpose:
A follow-on from the training workshop held last year for those unable to attend, to help Club Stewards better understand their role on behalf of the MSA, what their responsibilities are for safety, adherence to MSA Yearbook Regulations and Supplementary Regulations as well as being the second judicial body at an event.
Attendees:
Exisiting Club Stewards (by invitation) but as MSA funded other Clubs will be invited.
Where
: Holida Inn Express, Banbury (M40)
Duration
: 09.30-15.00
Trainer:
Alan Couper MSA Training Instructor and MSA Steward
A further training day on
LEADERSHIP, FIRST ON THE SCENE AND DRIVER STABILISATION
is being arranged, details to follow in the March Newsletter.
If you have any questions about these Training Days or about marshalling in general, please contact Club Director of Marshalling Alan Couper on:
Tel (M):
07765 238729
Tel No (H):
01721 752722
Email:
alan.couper@btinternet.com