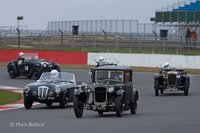 Monday 27 January 2014
Only two weeks left to enter the legendary 'Pom'!
There are now only two weeks left to submit your entry for the Club's famous Pomeroy Trophy, taking place at Silverstone next month on Saturday 22 February. Don't miss out...
Entries are flooding in for the event, a 'must-do' for any motorsport enthusiast with a VSCC Membership and an MSA Race License; and don't forget – it is the only VSCC event open to
any
road-going car, Pre- or Post-war, that complies with the event's engine capacity regulations (Buff Forms are not required!)
Amongst the entries already received are last year's three trophy winners – overall winner Dudley Sterry (HRS), Densham Trophy winner Alastair Pugh (Frazer Nash/BMW) and Alisdaire Lockhart's Pomeroy Edwardian Trophy winning Vauxhall A/D Type, this year to be piloted by Club President Tony Stephens, who will have at least two more Edwardian Vauxhalls for competition.
The Frazer Nash brigade is again out in force – with Post-war Targa Florio and Le Mans Rep models also flying the flag – who will face a stern test from other Pre-war Marques, with Alfa Romeo, Alvis, Crossley, Ford and Triumph also represented thus far. Amongst the Post-war entries, a hoard of Porsche spanning four decades will no doubt be fighting amongst themselves for bragging rights whilst a three-way battle between a trio of 1960s Fords (Galaxy v Cortina v Mustang) makes for an exciting prospect. Meanwhile, we will be intrigued to see how Martin Whitlock's 1997 Tiger Racing Ltd Avon measures up against its more illustrious and established opponents.
CLICK HERE
for more information on the event and how to enter.