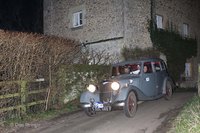 Monday 14 January 2013
Measham Rally Photos
Members can now view Donald Stringer's photographs of the 2013 Measham Rally Competition held over night at the weekend in the Chilterns area. Log in with your membership number and PIN and click on the 'Events' tab.
Photos of the event scroll at the bottom of the events page and can be clicked on to open in large view.
These photographs can also be viewed in an Album on 'The Vintage Sports-Car Club' Facebook page.

Results for The Measham Rally will be available on the event information page soon.