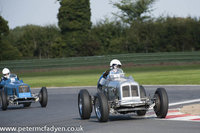 Tuesday 18 February 2014
ERA to take centre stage at VSCC Silverstone 'Spring Start' 2014
In celebration of 80 years of both ERA and the Vintage Sports-Car Club, an exclusive race will take place on the Sunday of the Club's Silverstone 'Spring Start' Race Meeting, taking place over the weekend of 12/13 April. The event is expected to attract many of the eighteen cars built, as well as those ERA-engined derivatives with close associations to the marque.
Founded by Raymond Mays and Peter Berthon in 1933, English Racing Automobiles Ltd led the way for Britain in International Road Racing in the immediate Pre- and Post-war period. Whilst somewhat overshadowed by the powerful state-funded German manufacturers of Mercedes and Auto Union, ERAs enjoyed much success across the majority of disciplines and the Club's close association with the marque continues to this day.
David Morris, Club Member and owner/driver of ERA R11B 'Humphrey' and marque specialist is one of the driving forces behind this race. David won the Goodwood Trophy at last year's Revival Meeting, followed by his ninth, and the car's twentieth, Historic Seaman Trophy at the VSCC Snetterton Race Meeting two weeks later.
He says, "I can hardly believe it is ten years since the last all ERA race and twenty years on from my first. Fortunately R11B seems to have barely aged at all, unlike his owner! I am very much looking forward to the 80th Anniversary celebrations, in what has to be the world's most successful brand of racing car of all time. The sight and sound of a group of ERAs is always special. I can only liken it to the Spitfire – it looks right, sounds right and is still a British winner 80 years on."
The Club will mark this special Anniversary with a period-style garage, in which the cars will be displayed over the weekend of 'Spring Start'. We are delighted to welcome R&N Engineering Ltd, producers of many key components for a number of these cars, as race sponsors. They will provide an ERA 80
th
Anniversary Trophy for the event.
In anticipation of the event, the VSCC and HGPCA will welcome ERA R5B 'Remus' as a joint exhibit to their stands at the upcoming Race Retro International Historic Motorsport Show at Stoneleigh, taking place from 21 to 23 February.
The ERA race is part of a 20-race programme for Vintage and Historic Racing and Sports-Cars at the VSCC 'Spring Start' Meeting at Silverstone on Saturday 12 and Sunday 13 April 2014.
Entries are now open. For full details of the Race Programme and HGPCA Test Day, visit the Event Page (
CLICK HERE
). Here you can also download Supplementary Regulations and an Entry Form, the latter to complete and return to the VSCC (post/fax/email accepted). Club Members with a payment card registered with the Office and who know the Eligibility Buff Form number of the car they intend to enter can also use our online entry facility.