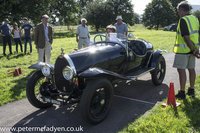 Wednesday 10 September 2014
Madresfield Driving Tests Results & Photo Gallery are now Live
Members can now download the Final Results and view photos from the Madresfield Driving Tests and Concours, which took place on Sunday 31 August, held on the mile-long drive of Madresfield Court near Malvern.
With the experienced and ever-dependable Tom Pellow and Hugh Girvan at the helm, a wonderful day of gentle motorsport was assured for one of the Club's most historic and much-loved events. And so it proved as they hosted yet another successful Driving Tests and Concours competition, with the idyllic venue bathed in glorious sunshine.
Having taken overall victory the last three years, Robert Gibson started as a strong favourite again and lived up to the billing, winning the Madresfield Trophy for Best Performance in the Driving Tests yet again in his Austin 7. Also defending her crown, Susan Hill took the Highest Placed Lady Driver in her Helix for a third consecutive year whilst Jonathan Yeeles topped the Saloon Cars in his Austin.
There was extra cause for celebration for Sandy Orttewell - entering his first ever VSCC event in his 50
th
year of membership with the Club, he was awarded the Montagu Trophy, topping the Concours standings in his splendid Alfa Romeo 6C 1500S, which he drove over from his home in France for the occasion. Stephen King was recipient of the Bob Watt Cup as winner of the Spectators' Concours competition in his Triumph Gloria.
Our thanks go to Tom and Hugh for organising yet another wonderful Madresfield Driving Tests, and to all those officials, marshals and competitors who were involved on the day.
CLICK HERE
to visit the Madresfield Event Page (you must be logged with your Membership Number and Pin).