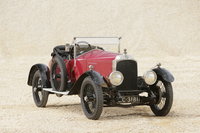 Thursday 11 September 2014
£3.4 MILLION BONHAMS BEAULIEU SALE THE PERFECT WARM UP FOR GOODWOOD
Bonhams Sale at the Beaulieu International Autojumble achieves a record £3.4 million, with several lots realising well over estimate at Bonhams most successful Beaulieu Sale to date ahead of the Goodwood Revival Sale this coming Saturday 13 September.
James Knight, Bonhams Head of Motoring, said: "The team have great affection for this Sale. Bonhams are proud to embrace the entire spectrum of the Collectors' Motor Car market and the Beaulieu Sale has a leaning towards the more affordable end of the spectrum, and also motor cars in need of resurrection. With 125 motor cars alongside 35 motorcycles and 174 lots of automobilia, this years' annual autojumble was our best ever with some excellent sales achieved.
"Many happy bidders turned out for the day, with projects proving particularly popular - a 1961 Jaguar E-Type project requiring complete restoration sold for almost four-times its estimate at £77,660; and proving Aston Martin's continued popularity amongst collectors - a DB Mk III Sports Saloon project achieved almost double its estimate at £93,340."
The top lot in the sale, a 1920 Vauxhall 30-98 E-Type, far exceeded its estimate, selling at £242,300. Having remained in Norfolk for over half a century, the sale was the first time the motor car was offered publicly in 62 years.
The 1923 Vauxhall Type OD 23-60HP Kington Tourer was a further Pre-war highlight, selling at £55,200. Registered in 1920s Southampton as a Hackney Carriage, the 'Super Excellent' Vauxhall is a true barn find discovery, having languished in a North London garage for almost 30 years.
Further sale highlights include the Bentley S3 Continental 'Flying Spur' Sports Saloon, achieving almost double its estimate with an in the room bid for £80,500. A 1936 Lagonda LG45 4½-Litre Fox & Nicholl Le Mans Team Car Replica also achieved above estimate, with the winning bid from a European telephone bidder for £180,700.
Additionally, a replica of the iconic Lambretta scooter ridden by actor Phil Daniels - aka 'Jimmy' - in the cult motion picture Quadrophenia sold for £10,350; and a rare and stylish 1986 Interstyl Hustler Huntsman 6 sold for £11,500.
The next Bonhams Sale is the Goodwood Revival Sale, which takes place this Saturday 13 September at Goodwood Motor Circuit, Chichester. Read a preview here or for more information on the Bonhams Goodwood Revival Sale, click here.