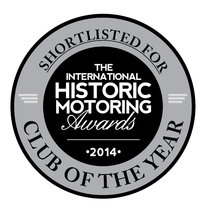 Tuesday 21 October 2014
Vintage Sports-Car Club nominated for 'Club of the Year' at the 2014 International Historic Motoring Awards
We are delighted to announce that the Club have been shortlisted in the 'Club of the Year' category at this year's International Historic Motoring Awards, in association with EFG Private Bank and Octane Magazine.
In recognition of the Club's activities in its milestone 80
th
Anniversary year, including the overwhelmingly successful Anniversary Week of events based in Peterborough in August, the Vintage Sports-Car Club have been nominated in the prestigious 'Club of the Year' category at the 4
th
annual International Historic Motoring Awards, where we will compete against the Jaguar Enthusiasts' Club, Maserati Club UK, Vintage Hot Rod Association and Historic Rally Car Register. Previous winners of this category include the Aston Martin Owners Club and the Historic Sports Car Club.
The Awards' judging panel contains a remarkable line-up of well-known experts from museums and collections, major events, Historic motor racing and the world of modern car design. Scott George – Vice President of The Revs Institute for Automotive Research, President of CH Motorcars LLC and associate Curator of the Collier Collection; Shiro Horie – Editor in Chief of Octane in Japan; and Dave Kinney – Historic collector, vehicle appraiser and journalist for
The
Automobile
and
The New York Times
have joined the panel this year, adding further expertise. Their fellow judges include Jay Leno, Derek Bell, car designers Ian Callum and Peter Stevens, Horst Brüning of FIVA, former World Sportscar Champion Jochen Mass, Dr. Franz-Josef Paefgen, responsible for the global coordination of the Volkswagen Group's Classic activities, Nick Mason and Tony Dron.
Awards will be announced at a Gala Dinner at the St. Pancras Renaissance Hotel in London on Thursday 20 November, where racing driver, journalist, television presenter and commentator Tiff Needell is to be the Master of Ceremonies.
Other Awards categories include 'Car of the Year', 'Industry Supporter of the Year' and 'Motorsport Event of the Year'. For a full listing of categories and nominations, visit the Historic Motoring Awards website (
CLICK HERE
).